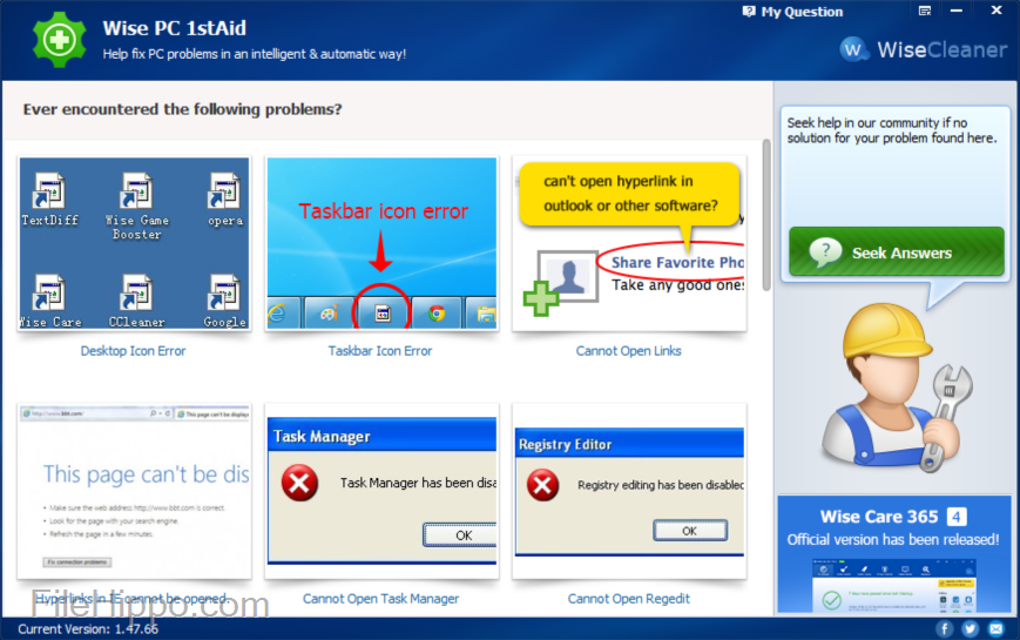 1/2
Wise PC 1stAid is a smart troubleshooting tool, which can help you locate solutions to some common computer issues. Included in the array of errors that Wise PC 1stAid can fix are ones relating to desktop icons, the task manager, the registry editor and Web pages, amongst other things.
| | |
| --- | --- |
| Version | 1.48 |
| Operating System Support | Windows 8, Windows 2012, Windows 2008, Windows Vista, Windows 7, Windows 2003, Windows XP, Windows 2000, Windows 10, Windows 98 |
| Current Language | English |
| Available Languages | English, French, Polish, Chinese, Italian, German, Japanese, Spanish |
| License | Free |
| Date | Wednesday, November 2nd 2016 |
| Developer | Wise Cleaner |
| Developer URL | https://www.wisecleaner.com |
When you first start Wise PC 1stAid you are presented with a simple interface that is divided into two sections. The main section has links to all of the main problems the app can solve.The other section has a link to the contact form, where you can contact the tech support forum in the event that your problem cannot be solved using the app.
When you locate the 'problem' you are experiencing, simply clicking on the icon will open area with a description of the issue and the solution to it. Next to this is a 'Fix Now' button, which starts the process that will rectify the problem. The downside is that when clicking to fix some of the problems, the app requests that you install additional software such as Wise Care 365 and Wise Memory Optimizer.