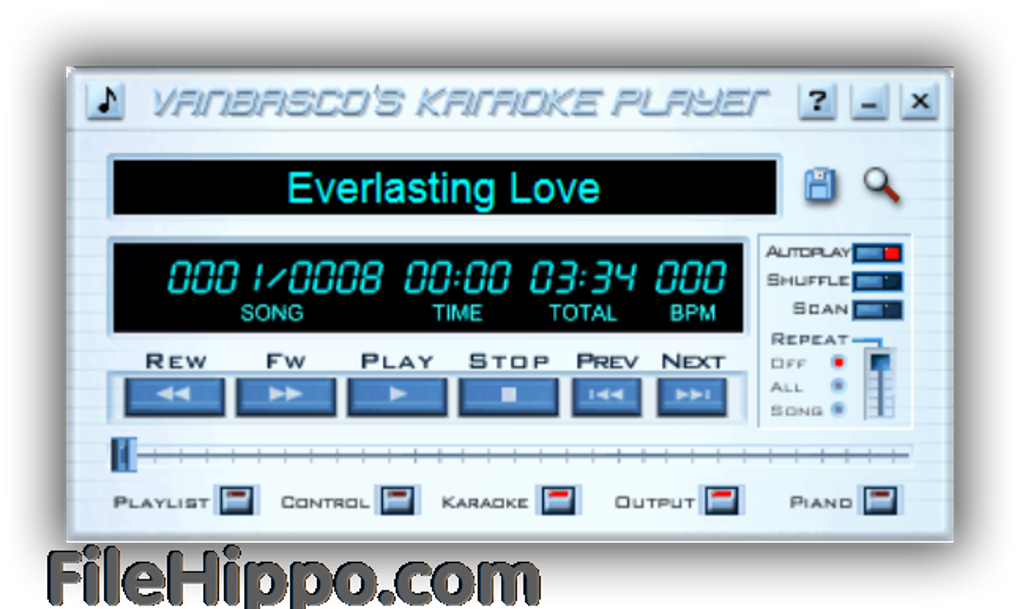 1/2
vanBasco's Karaoke Player is a freeware application that plays Karaoke (.kar) and standard MIDI (.mid, .midi, .rmi) files.
| | |
| --- | --- |
| Version | 2.53 |
| Operating System Support | Windows 8, Windows 2012, Windows 2008, Windows Vista, Windows 7, Windows 2003, Windows XP, Windows 2000, Windows 10, Windows 98 |
| Current Language | English |
| Available Languages | English, French, Polish, Chinese, Italian, German, Japanese, Spanish |
| License | Free |
| Date | Thursday, July 2nd 2015 |
| Developer | VanBasco Software |
| Developer URL | https://www.vanbasco.com |
Key features include:
Customizable Karaoke window: change font, colors, number of lines, and background image.
Lyrics can be displayed in a re-sizable window or full-screen.
Control window: Change tempo, volume, key of song.
Real-time MIDI output window: shows notes, volumes, and instruments.
Multi language support.
Mute or play solo individual instruments.
Piano view: displays notes on a big piano keyboard.
Optional Microsoft Internet Explorer integration.
Simple graphical user-interface with support for skins.
vanBasco's Karaoke Player is a lightweight karaoke utility that has full-screen lyrics display. It supports skins, change and recall of tempo, volume, and key control. You also have the ability to mute/solo instruments. If Karaoke is your thing, then vanBasco's Karaoke Player is a great way to utilize your PC as a Karaoke machine, just don't expect superior quality.