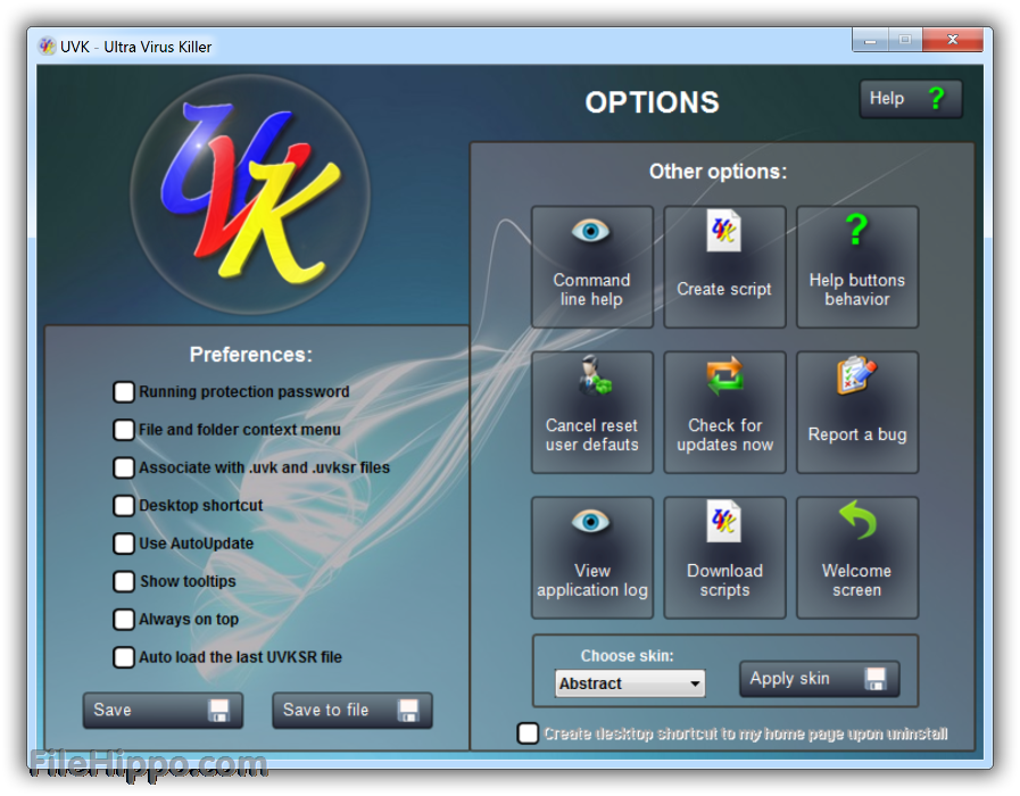 1/2
UVK Ultra Virus Killer portable is a simple, yet powerful Virus removal and system repair tool kit. It has stacks of features, such as a System booster and a Smart uninstaller. One of the most important features of UVK Ultra Virus Killer portable is the system repair section. Housed in this section are the tools to perform the most common system repair and maintenance tasks. It also has the ability to automate the most well known malware removal tools, and it allows you to create your own automated third party apps, and professional reports.
| | |
| --- | --- |
| Version | 10.11.4.0 |
| Operating System Support | Windows 98, Windows 8, Windows 10, Windows 2012, Windows 2000, Windows XP, Windows 2003, Windows Vista, Windows 7, Windows 2008 |
| Current Language | English |
| Available Languages | English, French, Polish, Chinese, Italian, German, Japanese, Spanish |
| License | Free |
| Date | Tuesday, April 9th 2019 |
| Developer | Alfredo Anibal Dos Santos Da Silva |
| Developer URL | https://www.carifred.com |
As mentioned above, the System booster tool is a complete registry and file system cleaner. Not only does it recursively loop through the registry to try and find invalid references, but it analyzes each key and value separately, defining whether it's pointing to a file or another registry key/value and looping through a large array of possibilities to ensure the corresponding item does not exist before adding it to the list.
One of UVK Ultra Virus Killer portable's better tools is the Smart uninstaller. It is capable of uninstalling several programs at once. It also supports unattended mode, and force uninstall. As a complement to all the features mentioned, UVK Ultra Virus Killer portable also provides a special text editor that has been designed to analyze the UVK Ultra Virus Killer portable logs and create scripts based upon them.
UVK Ultra Virus Killer portable is exactly the same as the UVK Ultra Virus Killer in every respect, except it requires no installation and can be run from any source.