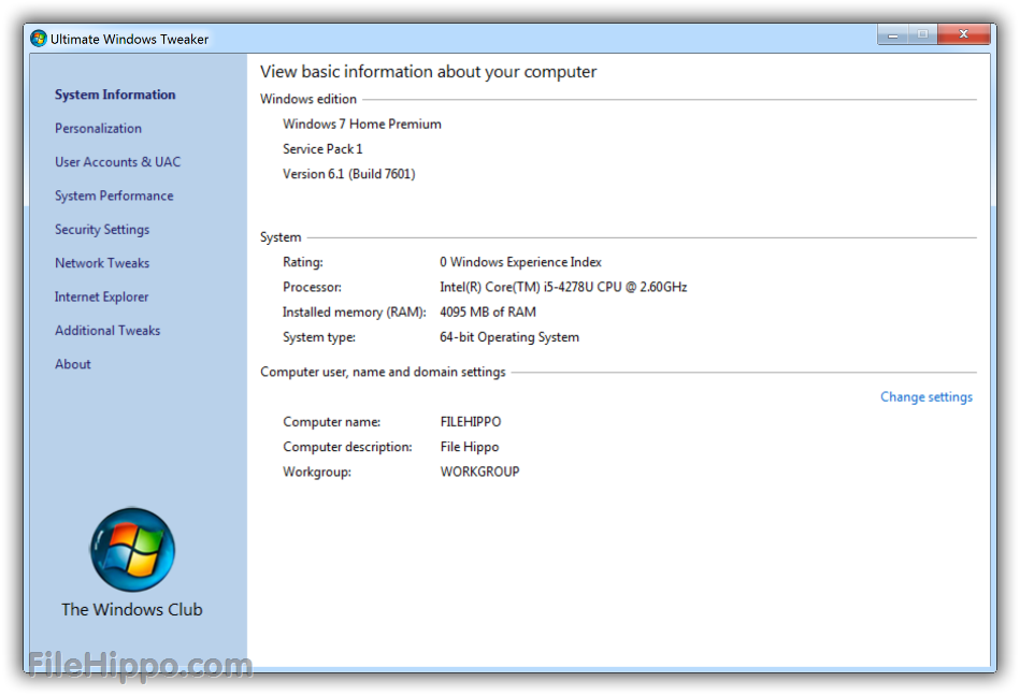 1/2
Ultimate Windows Tweaker is a free Windows customization tool that gives you access to useful system tweaks, not just ones purely designed for aesthetics.
| | |
| --- | --- |
| Version | 4.7.1 |
| Operating System Support | Windows 98, Windows 8, Windows 2012, Windows 2000, Windows 2008, Windows 7, Windows XP, Windows 2003, Windows 10, Windows Vista |
| Current Language | English |
| Available Languages | English, French, Polish, Chinese, Italian, Japanese, German, Spanish |
| License | Free |
| Date | Wednesday, November 14th 2018 |
| Developer | The Windows Club |
| Developer URL | https://www.thewindowsclub.com |
As the application comes bundled in a zip file, simply extract its contents; there's no installation involved. This is really useful if you want to add it to your collection of USB portable tools.
Ultimate Windows Tweaker is divided up into seven sections, comprising of Customization, User Accounts, Performance, Security & Privacy, Internet Explorer, Context Menu and Additional Tweaks. Each of these headings is then split into clearly defined tabs. To begin tweaking your system, just select one of these and start experimenting. Please remember to make sure you click Create Checkpoint before you begin, so you've got a System Restore point to rollback to if needed.
Ultimate Windows Tweaker has some really good options, such as the ability to add useful shortcuts to right-click menus, tweak hidden parts of Windows and fine-tune your system for better performance. Overall, as a free system enhancement tool, Ultimate Windows Tweaker really does stand out from the crowd.