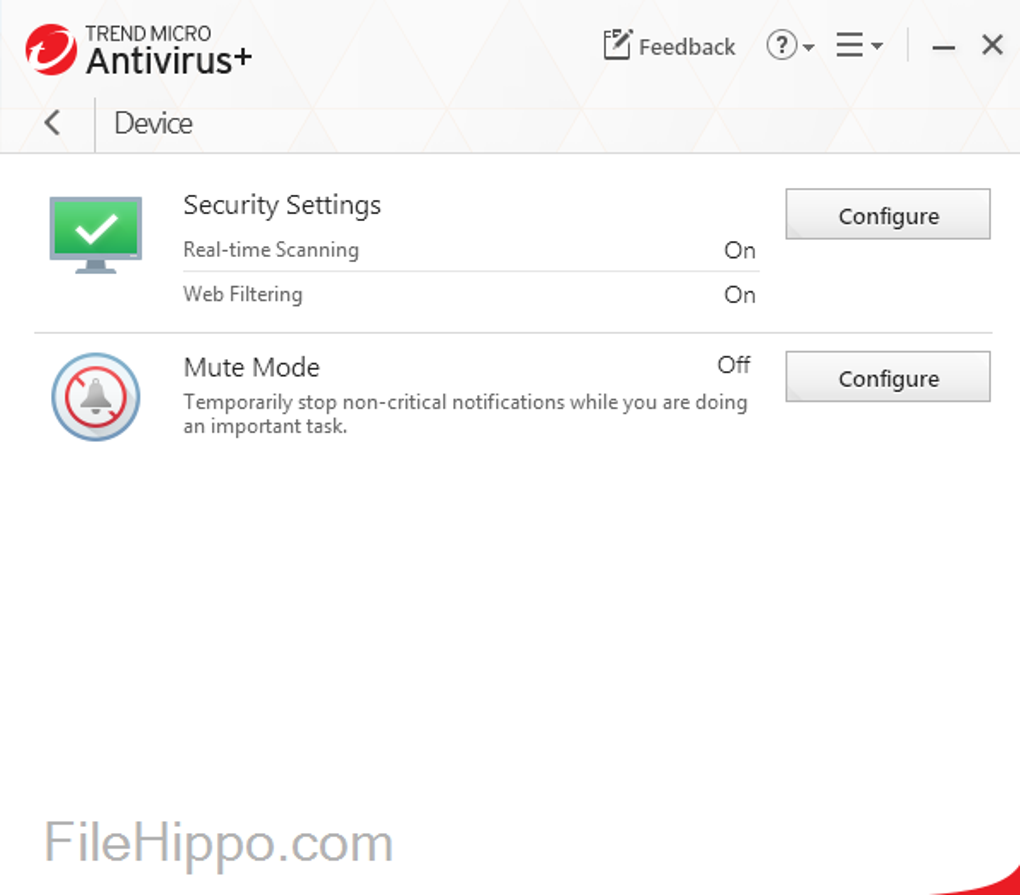 1/2
Trend Micro Antivirus+ Security, operating on Windows, ensures simple protection against troublesome threats. It gives you peace of mind with essential protection to help you avoid web threats, protect your email, browse safely and stop viruses.
| | |
| --- | --- |
| Version | 12.0 |
| Operating System Support | Windows 8, Windows 2012, Windows 2008, Windows Vista, Windows 7, Windows 2003, Windows XP, Windows 2000, Windows 10, Windows 98 |
| Current Language | English |
| Available Languages | English, French, Polish, Chinese, Italian, German, Japanese, Spanish |
| License | Trial version |
| Date | Monday, July 23rd 2018 |
| Developer | Trend Micro Inc |
| Developer URL | https://www.trendmicro.com |
Trend Micro Antivirus+ Security protects your device against ransomware, email scams and includes advanced AI learning for even more powerful protection. It also includes Trend Micro Pay Guard, so you can securely access your banking or shopping sites from your device without fear.
Key features include:
Stops viruses.
Prevents malicious software attacks.
Avoid web threats.
Defends against ransomware.
Protects your email.
Simple and efficient.
Great usability/ friendly interface.
Trend Micro Antivirus+ Security can secure your connected world, by blocking a wide range of malicious software including viruses and spyware. Browse safely with peace of mind, knowing you have a defence against dangerous websites wanting to steal your personal data.
Cybercriminals will not be able to take your data hostage, thanks to Antivirus+. It protects against even the most modern types of attacks, including ransomware – because no one wants their files encrypted until they pay a big price.
Overall, Antivirus+ Security by Trend Micro will keep all Windows users safe online, thanks to an assortment of defensive features. It is also clear and easy to use. Intuitive settings and clear status reports really do give you the added bonus of staying safe in such a simple way.