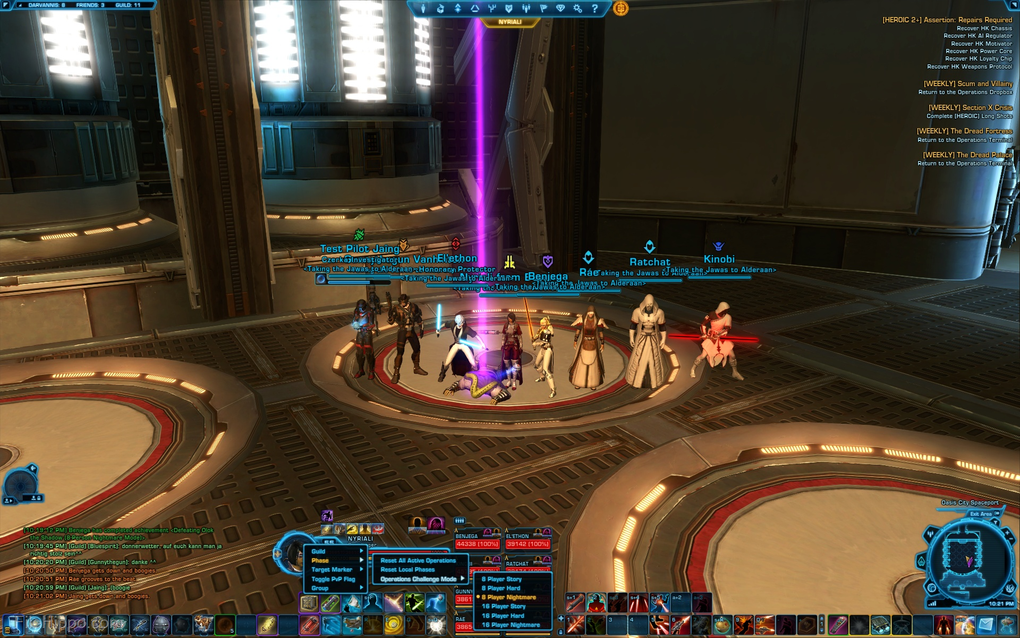 1/2
The Force is strong with Star Wars: The Old Republic for Windows. This massively multiplayer online roleplaying game (MMORPG) allows players to be transported into George Lucas's Sci-Fi universe, in some style.
| | |
| --- | --- |
| Version | 5.10.2 |
| Operating System Support | Windows 8, Windows 2012, Windows 2008, Windows Vista, Windows 7, Windows 2003, Windows XP, Windows 2000, Windows 10, Windows 98 |
| Current Language | English |
| Available Languages | English, French, Polish, Chinese, Italian, German, Japanese, Spanish |
| License | Free |
| Date | Thursday, April 11th 2019 |
| Developer | BioWare |
| Developer URL | https://www.bioware.com |
Become a direct part of the saga as one of the characters. At the start of your journey you must decide whether be part of the Republic or of the Empire. If you opt for the latter, you can be a Sith or a bounty hunter. If you choose to snub the Dark Side you can be a Jedi or a smuggler..
Key features include:
MMORPG.
Different character options.
Diverse gameplay scenarios.
Global gaming community.
Easter eggs.
Great usability.
Huge maps.
Star Wars: The Old Republic was 'created by Star Wars fans, for Star Wars fans' – ensuring it enjoys a strong following. There are also scores of Easter eggs relating to Star Wars cannon sprinkled throughout the huge gaming landscape.
This is far more than just a multiplayer fighting game. You can explore parts of the Star Wars universe freely, like in all great adventure games. There are also opportunities to take control of spaceships and embrace your inner Han Solo.
Gamers also love to interact with all of the other players from across the world. Get to know other people who love Star Wars by simply talking to them, or trading and fighting with other characters. Of course, if that's not your thing, you can always stick to field battles.
Overall, Star Wars: The Old Republic is – and will always likely be – an enjoyable and very popular MMORPG. Although Star Wars fans are obviously going to be the main players of the game, anybody can get involved and enjoy the fantastic gameplay features.