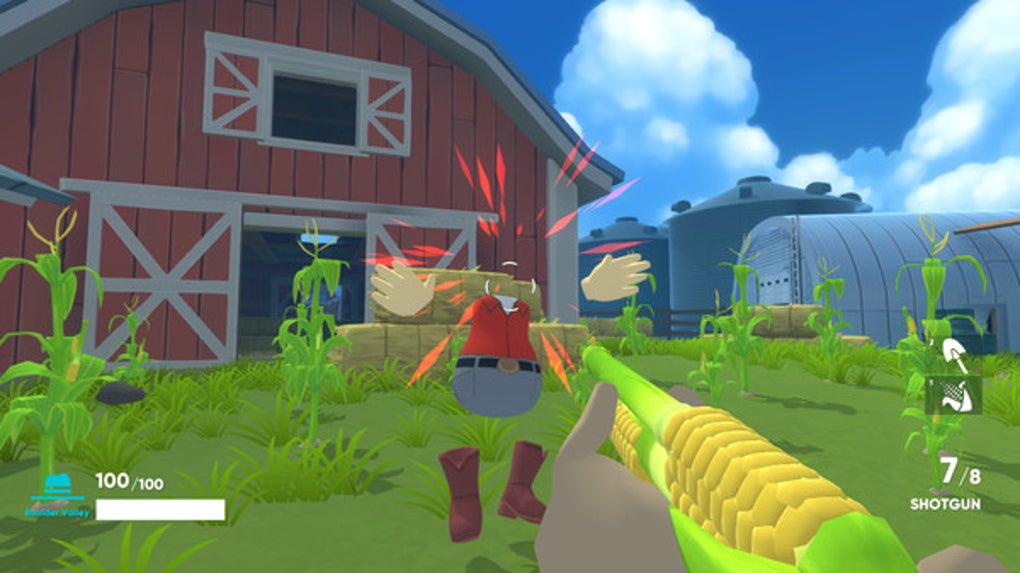 1/2
Online multiplayer shooter
Shotgun Farmers is a first-person shooter where every missed shot turns into a weapon that you can use. The longer your shot grows, the larger the amount of ammo you'll receive.
| | |
| --- | --- |
| Version | 1 |
| Operating System Support | Windows 8, Windows 10, Windows 7, Windows 8.1 |
| Current Language | |
| Available Languages | |
| License | Paid |
| Date | Friday, May 29th 2020 |
| Developer | Megastorm Games |
| Developer URL | http://store.steampowered.com/search/?developer=Megastorm%20Games |
Grow your guns
The main and wackiest mechanic in Shotgun Farmers is that any shot you miss when it hits the ground will grow a new gun. You can grab the weapon at any point; however, the longer you let it grow, the more ammo you'll have. There is no reload feature; once you run out of bullets you're forced to grab a new gun if you want to continue firing back at other players.
Online multiplayer or singleplayer
Shotgun Farmers supports up to 10 players in an online match, allowing for a diverse range of events. However, if you can't play online, you can create an offline round that uses the game's AI to bring you the feeling of versing other players.
You can create a public lobby to play matches with strangers or set the room to private with a password that you shared with friends. If your game is short on players or a team is unbalanced you can team up with the bots to win the round.
Gamemodes
Shotgun farmers has three main game modes but receives limited time events such as the recent Carrot Fest where all players and AI spawned with a Carrocket Launcher, while no other guns generate on the map. The main matches you can play are Chicken Run, King of the Crow, and Capture the Pig. The most unique of these, Chicken Run, requires you to chase a chicken across the map while fighting other players to keep it.
No storyline
Shotgun Farmers by Megastorm Games has no story, which aids its quick-paced gameplay of shooting seeds at other players. Whether online or offline, you'll be able to play matches, thanks to the AI bots. You'll also be able to choose from hundreds of cosmetics such as hats, skins, emotes, and costumes to personalize your farmer.