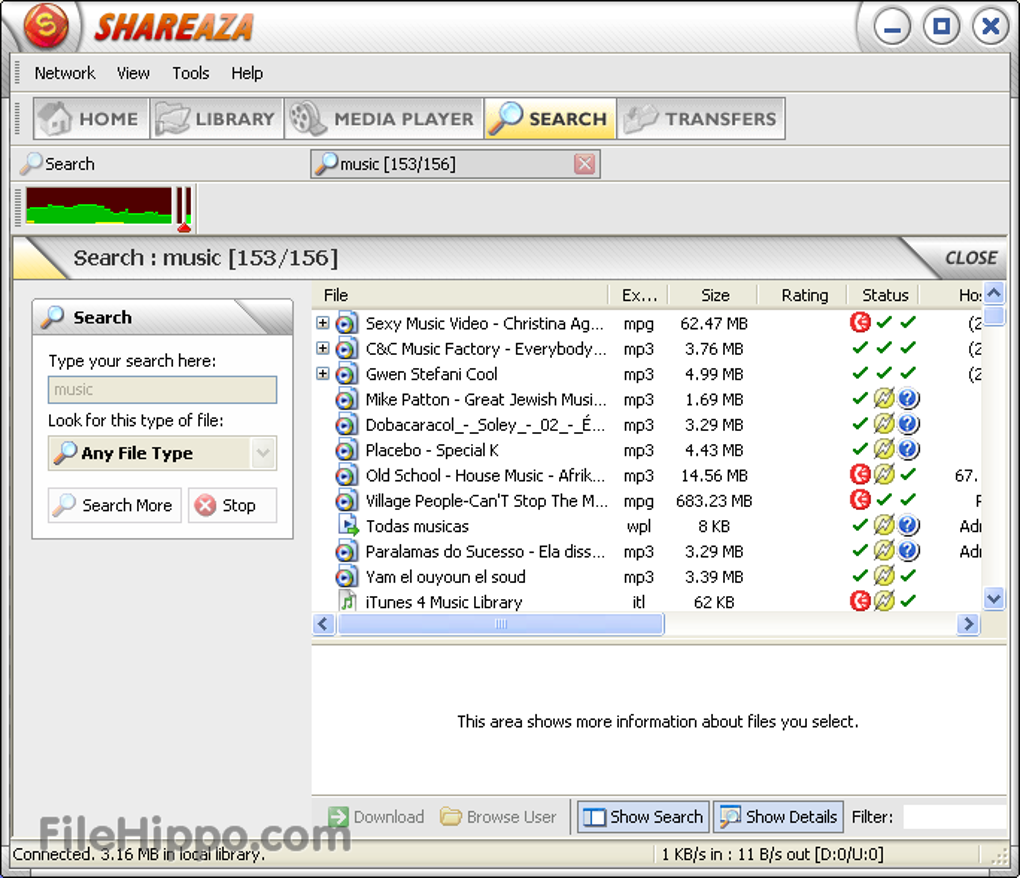 1/2
Shareaza is a peer-to-peer client for Windows that allows you to download any file-type found on several popular P2P networks.
| | |
| --- | --- |
| Version | 2.7.10.2 |
| Operating System Support | Windows 2003, Windows XP, Windows 2012, Windows 2000, Windows 2008, Windows 10, Windows 8, Windows 98, Windows 7, Windows Vista |
| Current Language | English |
| Available Languages | English, French, Polish, Chinese, Italian, German, Japanese, Spanish |
| License | Free |
| Date | Tuesday, September 19th 2017 |
| Developer | Shareaza Development Team |
| Developer URL | https://shareaza.sourceforge.net |
Shareaza is the most luxurious and sophisticated file sharing system you'll find. It can harness the power of up to four separate peer-to-peer (P2P) networks, including EDonkey2000, Gnutella, BitTorrent and Shareaza's native network, Gnutella2 (G2).
Not only that, but Shareaza is completely FREE and won't show any annoying ads or pop-ups. It won't install any unwanted third party programs that can wreak havoc with your computer. No spyware, no registration, no "paid version". Just download and use. Simple.
What you get with Shareaza:
Phenomenal Multi-Network Support – You can download/upload from these networks: EDonkey2000, Gnutella, BitTorrent and Gnutella2 (G2).
Shareaza Introduces "Collections" – Collections group previews of album covers, descriptions, and song lists all in one complete package. Once you've discovered the collection, just click the file list to download.
Kick-ass Interface with loads of features – This P2P client has a lot to offer and you reap all the benefits. With Shareaza's well designed interface you can do a lot more than all the other clients out there.