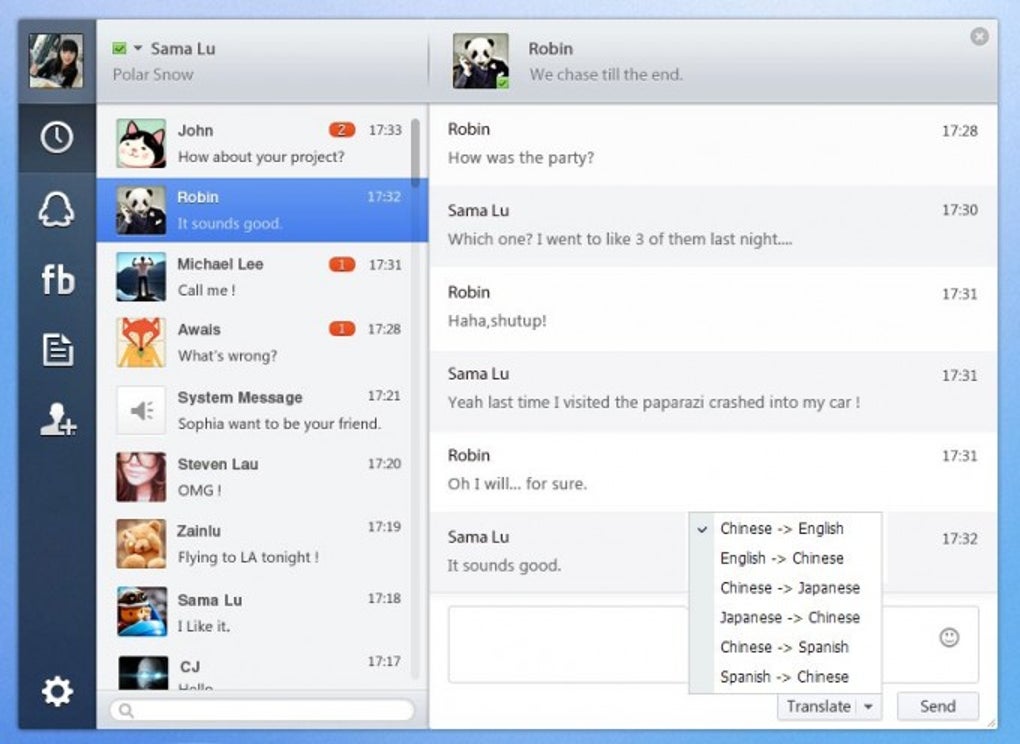 1/2
Instant messaging service
QQ by Tencent is a bundle of tools whose original focus is instant messaging, but it offers more than that. This Chinese app also provides you with voice chat options, games, music, even shopping and blogging.
| | |
| --- | --- |
| Version | 1.0.198.0 |
| Operating System Support | Windows 8, Windows 10 |
| Current Language | English |
| Available Languages | |
| License | Free |
| Date | Friday, July 3rd 2020 |
| Developer | Foxmail |
| Developer URL | https://www.foxmail.com/win/en/ |
Packed with fun features
Tencent, the developer of popular app WeChat, is out with another communication app, QQ. It exists in Chinese as well as an international version in six languages. However, even the original contains an automatic translator for non-Mandarin speaking users.
This instant messaging utility offers many options to the user, which expands way beyond online interaction. The primary selling point of this programme is the variety of available entertainment options.
Its primary functions include chat, voice messages, online games and shopping, microblogging, and streaming movies. That's how this app can raise above the more generic, although also more accessible, competitors.
Buy items in the store
With respect to in-app online shopping, QQ boasts a variety of merchandise, including stuffed animals, backpacks, and hats. They are all available for purchase through the interface.
There are also purchases in the app. You can buy virtual items to make your usage even more exciting employing 'Q Coin,' the app's digital currency.
Purchase a membership
This app is free to use, but there are one-time, in-app purchases that let you block advertisements, download ringtones, and many other options.
These purchases can get you a seven-tiered 'Diamond' membership, where different levels offer you fun additions, including music streaming, having your QQ pet, and even benefits in a popular online RPG.
You can run QQ cross-platform on all major operating systems and smartphones.
When it comes to security, QQ used to have some issues, but the newest versions fixed the weak spots to ensure privacy for their users.
An exciting alternative
Users looking for alternatives to more traditional messaging apps such as Messenger and WhatsApp can find what they need in QQ. Although it's not as famous amongst the non-Asian population, the QQ International version, which is more than a translated edition of the original, is growing in popularity, representing a new, fun way to communicate.