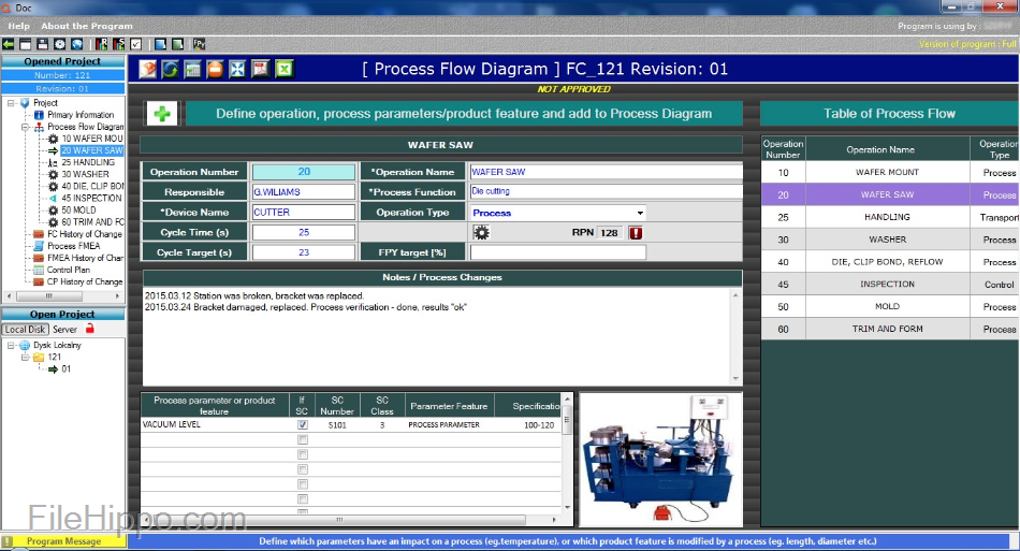 1/2
Qdoc is a powerful software tool that has been designed as a direct response to the growing and changing need for Quality Systems that are as responsive as they are thorough.
| | |
| --- | --- |
| Version | 3.0 |
| Operating System Support | Windows 8, Windows 2012, Windows 2008, Windows Vista, Windows 7, Windows 2003, Windows XP, Windows 2000, Windows 10, Windows 98 |
| Current Language | English |
| Available Languages | English, French, Polish, Chinese, Italian, German, Japanese, Spanish |
| License | Trial version |
| Date | Friday, June 9th 2017 |
| Developer | QDoc Software |
| Developer URL | https://www.qdoc.com |
Qdoc software is a comprehensive and logical based system for creating highly consistent quality document packages. One of the key highlights of Qdoc is the intuitive manner in which it helps Quality and Engineering teams manage the actions and tasks to improve production processes, machines or devices.
As you would expect from a Quality System software it includes the ability to create aProcess Diagram, PFMEA and Control Plan. Other highlights include an Attachments Manager, Process Defectiveness, and Process Development.
For every process operation added to a diagram, all changes can be tracked and then implemented by a Process Engineer and subsequent data can further be analysed from a chronological perspective for better future understanding of the behaviour of machine/device, tools, and process flows. 
When adding a new operation to the Diagram view, Qdoc software automatically creates appropriate rows in FMEA and Control Plan documents with particular consideration given to defined process parameters, and ensuring consistency across created documents. ?
?For every process operation you can easily add operator control instruction, machine instruction, MSA reports, Qualification reports, Calibration reports, Quality Alerts, and Annual Revalidation reports. This guarantees total process and quality documentation supervision. ?
?Qdocs Failure mode and effects analysis can be a very useful tool for process risk assessment that requires a robust management and fail-proof supervision, especially when production processes are complex and highly developed.
For those of you who have come to this page by choice, you should know that Qdoc is a well regarded piece of software in its field. Tabular forms of Process Flow Diagram are flexible enough to allow for the inclusion of key process parameters, product features and special characteristics with enough built in variability for a wide range of projects.