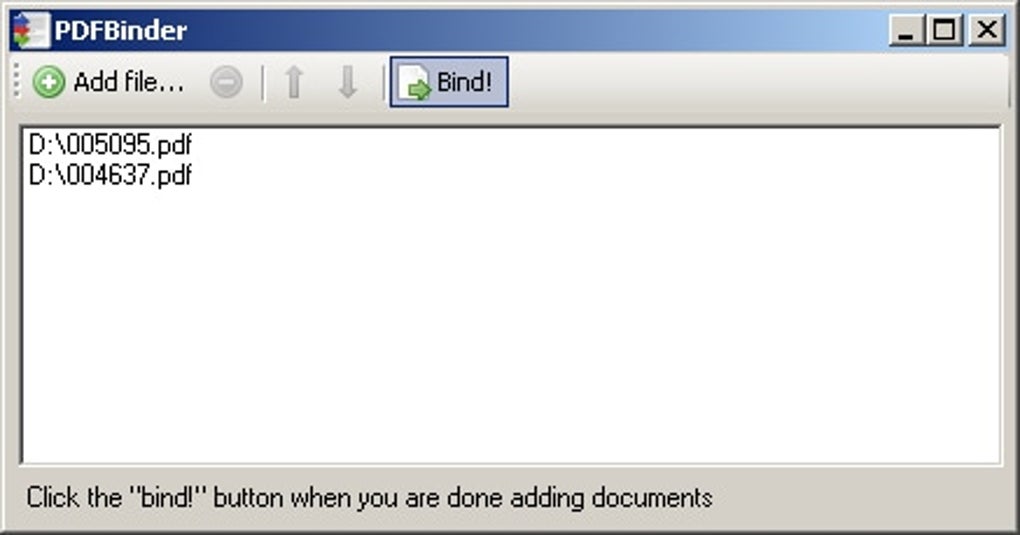 1/2
A free PDF combining tool
PDFBinder is a free utility that lets you combine multiple PDFs into a single document. The tool gives you full flexibility regarding which PDF documents enter your binder and facilitates transferring your files.
| | |
| --- | --- |
| Version | 1.2 |
| Operating System Support | Windows 8, Windows 2003, Windows 7, Windows Vista, Windows XP |
| Current Language | English |
| Available Languages | |
| License | Free (GPL) |
| Date | Friday, July 3rd 2020 |
| Developer | |
| Developer URL | |
Easy-to-use app
This free, user-friendly tool lets you merge an unlimited number of PDFs into a single file for simplified saving and sharing.
This utility has a single task of merging PDFs and it performs this function well. The binding resembles zipping your files, but this programme doesn't reduce the size of your PDFs. The number, in the end, equals the sum of the size of all documents involved in the process.
Simple UI
Even those with least experience will be able to use it with ease thanks to the clean user interface and lack of endless lists of menus and tools. Instead, the five buttons on the main screen do all the work.
Moreover, this free programme doesn't display any ads. It's safe, too, since it gets installed locally and doesn't upload any of your documents to an external server.
To use this programme, all you need to do is select the files you want to bind from your PC and use the drag-and-drop function to import them onto the interface. Then, you just need to arrange them in your desired order and click the 'Save' button.
Limited functionality
Unfortunately, you can't edit your documents before combining them. The only function of PDFBinder is what it says in the title name.
Lightweight
Being so simple, this programme is also small in size. It takes up an unnoticeable amount of memory on your hard drive and requires low resources.
It runs on older versions of Windows, which makes this feature extra important. Unfortunately, though, you can't use it on Mac. You will want to try Infix Editor instead.
Handy but could do more
This tool saves time and effort for people who often tackle multiple PDF files. However, the interface isn't as smooth as you'd expect. Plus, it lacks editing features native to the likes of Foxit Reader and Adobe Acrobat DC, making it redundant.