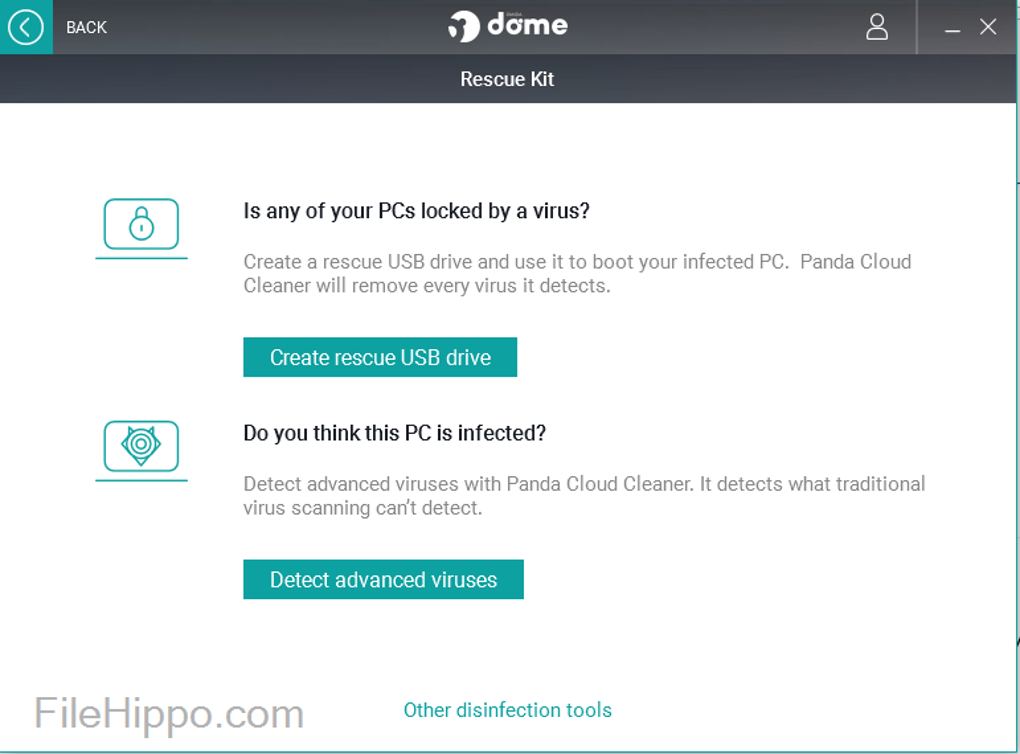 1/2
Panda Dome Essential has replaced Panda Antivirus Pro. It now comes packed with new secure features and tools that provide you with both with easy-to-use and intuitive protection for your computer. It offers basic protection against hackers, viruses, worms, Trojans, phishing, and rookits etc. It can also monitor emails and attachments, files sent via instant messenger services, and websites.
| | |
| --- | --- |
| Version | 18.06.00 |
| Operating System Support | Windows 8, Windows 2012, Windows 2008, Windows Vista, Windows 7, Windows 2003, Windows XP, Windows 2000, Windows 10, Windows 98 |
| Current Language | English |
| Available Languages | English, French, Polish, Chinese, Italian, German, Japanese, Spanish |
| License | Trial version |
| Date | Wednesday, June 20th 2018 |
| Developer | Panda Security |
| Developer URL | https://www.pandasecurity.com |
Once installed, you can forget about viruses, spyware, rootkits, hackers and online fraud. With Panda Dome Essential you can enjoy real-time protection against the latest malware threats. Plus it also provides security for your Android devices as well.
The interface is easy to use with a single, main window that reveals the current security status and the total number of scanned files. It also gives you access to the scanner, the antivirus, the firewall, the application control, the process monitor, and the other modules. Each of which is displayed as a separate tile.
Key Feature include:
Antivirus protects against virus, ransomware, and malware.
Firewall ensures safety from hackers.
Safe Browsing protects users while browsing the Internet
Process Monitor analyzes your system background processes.
VPN allow users to securely access data remotely through public networks.
With Panda Dome Essential you can shop and browse online safely. Thanks to its new real-time protection technology, the new 'Panda Antivirus Pro' is safer, faster and more complete than ever before. With it you can share photos and videos, shop and bank online, read your favorite blogs or simply browse the Web with complete peace of mind and without interruption.
If you want to configure Panda Dome Essential, rather than leave it with the stock configuration that comes as standard, then you can. The app allows you to start your computer in safe mode and disinfect it in critical situations.
Panda Security's Cloud Technology provides an intelligent protection system based on a user community where everyone contributes. Your computer will always be up-to-date and fully protected.
Panda Dome Essential lets you enjoy a new, more modern and intuitive user experience. The interface features tabs from a single window that are easy to navigate. However, the really great thing about Panda Dome Essential is that you don't have to be an expert to use it; it does everything for you. Simply install it and forget about viruses and other threats. The app uses low CPU and RAM while scanning but it can take a long time to carry out scan jobs. That having been said, it does provide good overall results for malware detection and removal. In conclusion, any users who enjoyed using Panda Antivirus Pro will feel comfortable with Panda Dome Essential.