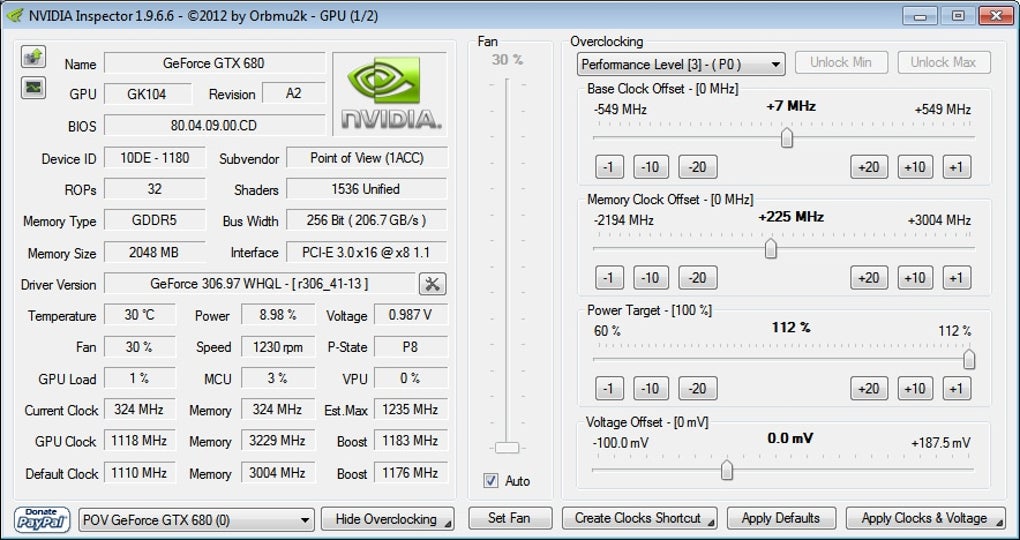 1/2
Hardware and driver-viewing software
NVIDIA Inspector by Orbmu2k is a free supplement to your control panel which lets you access data related to your drivers and hardware information on your NVIDIA graphic card. It shows you more data than you would otherwise receive, helping you to ensure everything is running smoothly.
| | |
| --- | --- |
| Version | |
| Operating System Support | Windows 10, Windows 8, Windows 8.1, Windows 7 |
| Current Language | English |
| Available Languages | |
| License | Free |
| Date | Friday, July 3rd 2020 |
| Developer | Orbmu2k |
| Developer URL | http://orbmu2k.de/ |
Simple and helpful
NVIDIA Inspector is a great, lightweight tool to check your GPU if you're using the graphic card of the same provider, such as NVIDIA Geforce. If you are not, you can try MSI Afterburner or OCAT for similar features and a bit more flexibility.
Either way, this programme's main features include displaying hardware information, monitoring your hardware for any issues, clock turning for your core, memory, and shader, and adjusting the fan speed.
You will primarily use this tool to uncover issues taking place on your operating system, such as deficiencies in your drivers and graphic cards, or your computer's inability to recognise anything you installed.
Good-looking application
The UI is streamlined and centralised, showing you all the most relevant parameters related to these issues. Youu can tweak them and use advanced features to optimise the functioning of your operating system.
Originally, NVIDIA Inspector was not open-source. However, today it is. More and more changes to it are taking place, increasing the accuracy and ease of use of the programme. You can find all relevant information on its forum.
Security
When it comes to safety, this software bundle boasts an MIT license, ensuring that it is secure to install and use on your PC. Moreover, once you install it, it will work in the background. You don't need to have the programme always running.
A great tool
Although it crashes at times, NVIDIA Inspector can help you a lot when it comes to detecting issues with your hardware. Its streamlined UI makes it possible to use even if you're not quite tech-savvy. While it does not host as much a comprehensive environment as Riva Turner, it is more user-friendly and appealing.