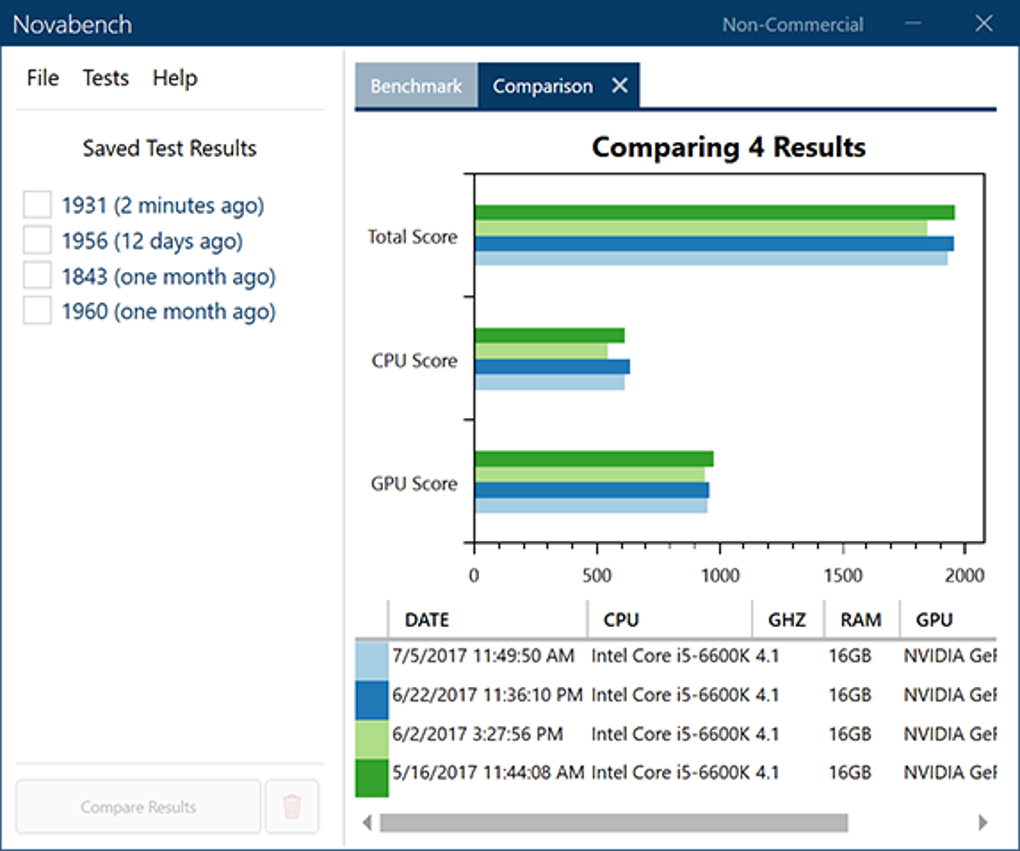 1/2
Novabench is a popular component benchmark app for Windows.* It's the most convenient way to test and compare your system's hardware and graphics capabilities!
| | |
| --- | --- |
| Version | 4.0.7 |
| Operating System Support | Windows 98, Windows 8, Windows 2012, Windows 2000, Windows 2008, Windows 7, Windows XP, Windows 2003, Windows 10, Windows Vista |
| Current Language | English |
| Available Languages | English, French, Polish, Chinese, Italian, Japanese, German, Spanish |
| License | Free |
| Date | Monday, October 8th 2018 |
| Developer | Novawave Inc. |
| Developer URL | https://www.novawave.ca |
Test: Test your system; benchmark CPU, RAM, hard disks and 3D graphics.
Compare: Compare your computer's score and system component results to others.
Share: Share and submit your verified scores on your profile and social networks.
Novabench allows you to test the main components of your computer quickly. In fact, testing usually takes only 1-2 minutes. Each test produces detailed information on your system and gives you an overall system score.
You can compare your computer's score and system component results to others. Armed with this information you can make informed upgrade decisions, and easily detect performance bottlenecks.
Novabench verifies all results for authenticity, and the information used can build a profile of results. These can then be easily linked to social networks. Novabench also allows you to create an image for your forum signature, blog, or website.
Overall, Novabench is fast, simple to use and provides you with a breakdown of your system's performance. On the downside, the benchmark given only provides you with a general idea of performance, and not a fully detailed .
*NovaBench for Mac is also available.