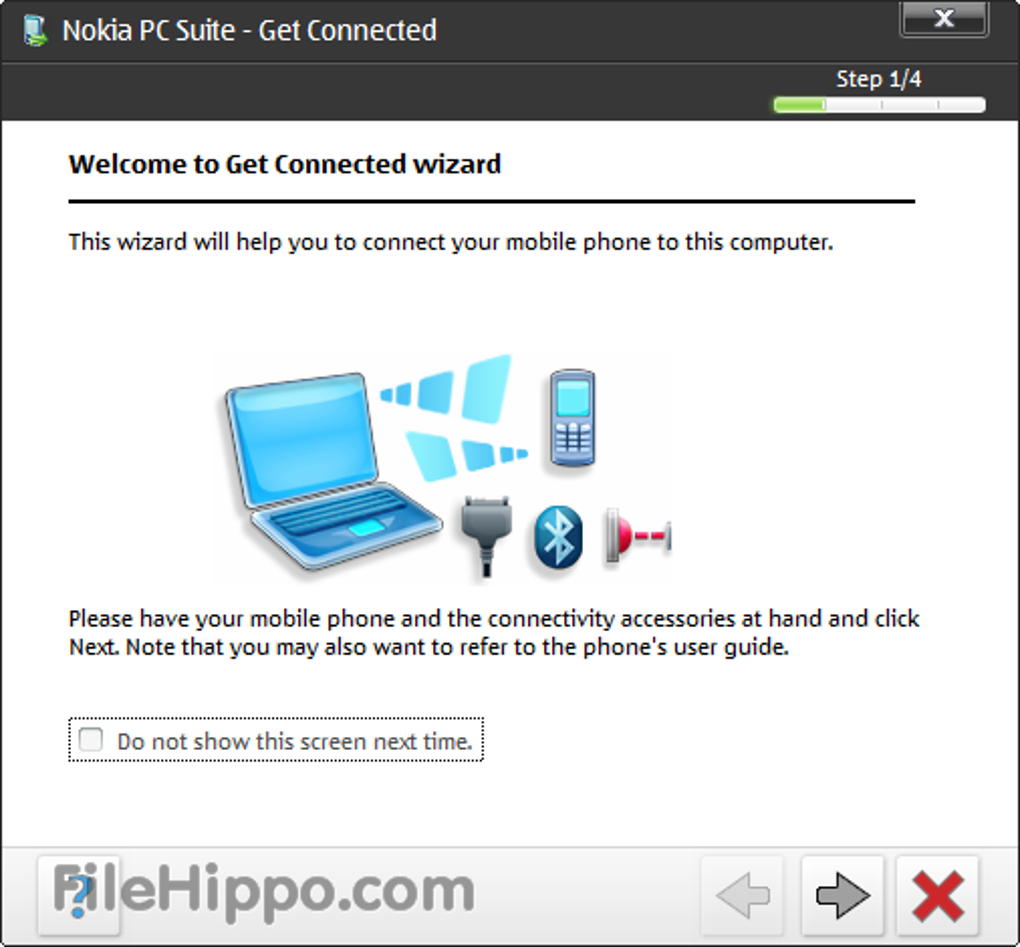 1/3
Free and full package for your Nokia
Nokia PC Suite is a package of tools that allows users with a Nokia device to connect to their Windows computer. You can use this suite to back up your phone's contents, push software updates and share files between your desktop and mobile phone.
| | |
| --- | --- |
| Version | 7.1.180.94.0 |
| Operating System Support | Windows 10, Windows 8.1, Windows 8, Windows 7 |
| Current Language | English |
| Available Languages | English, French, Polish, Chinese, Italian, German, Japanese, Spanish |
| License | Free |
| Date | Wednesday, July 4th 2012 |
| Developer | Nokia |
| Developer URL | https://www.nokia.com |
Transferring data to and from your phone
Nokia PC Suite allows you to connect your Nokia device to your computer. Depending on your phone model, you can synchronize, edit, and back up your files using a wireless or a cable connection. It allows for automatic, secure, data transfer.
Functionality
Nokia PC Suite can be used to upload and download music, photos, and applications. You can also use this package to send Short Message Service (SMS) messages.
There are some older Nokia phones that lack the compatibility with the later versions of this collection of software. You can check the table on the official site to ensure that your phone will work with the most recent version.
The most recent version of the Suite contains several added features that are interesting, including a File Manager, Application Installer and 'Nokia Communications Centre' data viewer. PC viewer also allows you to access all of your on-device features including battery, memory, and call handling.
You can also use Nokia PC Suite to connect your Nokia mobile internet to your desktop laptop using a data cable. Simply install the program, select Connectivity->USB->USB connection mode->PC Suite. In order to ensure uninterrupted connectivity, your location should have a stable network connection.
A simple interface
Nokia PC Suite has a simple interface that uses a set of icons to display a range of tasks. When your phone is connected, you'll be able to see it, and it's status on the left pane of the task window. On the right, you'll see a set of various possible actions. The app is also available in multiple languages.
How to sync your device
You can copy information between your Nokia and your computer through a cable or wirelessly with Bluetooth. It's fast and easy to connect to the internet. This application lets you sync your Microsoft applications from your phone to your computer.
You can also create, edit, and send contacts or messages with one easy-to-use application. You don't have to worry about missing important correspondence when you're using this application. While you're using it you can be informed of incoming calls as well as new messages received. You can also edit SMS and MMS
With Nokia PC Suite, you can sync contacts and your calendar between the following programs: Microsoft Windows 7 Contacts, Microsoft Outlook Express, Mozilla Thunderbird, Mozilla Windows Vista Contacts, Microsoft Windows Vista Calendar, and Microsoft Outlook 2002, 2003, 2007, and 2010.
If you want to make sure that all of your mobile data is protected, Nokia PC provides you with the opportunity to create a complete backup of your device, which will be saved onto your PC. You're also able to find the most recent updates.
With Nokia PC Suite you can also upload and download music, videos, and other multimedia.
How to use your Nokia PC Suite as a modem
You can take advantage of Nokia PC Suite to connect your computer to the internet over your data connection. You'll first connect your phone via USB or Bluetooth. Then, you'll open up the PC Suite and establish an internet connection with one-touch access.
Make sure you manually select your operator in the settings. You might otherwise incur some massive data charges
System Requirements
Before you download Nokia PC Suite, you should make sure that your computer meets the following device requirements. You'll need 2 GB of free space on your PC.
The package works with Microsoft Windows 7 32-bit or 64-bit or on Windows XP 32-bit. Your PC must also have a 64MB graphics card, 1 GB of RAM. Your screen resolution must be at least 1024×576 or more with a 24-bit colour.
Microsoft Outlook 10 x64 currently doesn't work with PC suite, but it is possible to sync via Nokia Suite. You'll also need an available hard disk space of 250 MB. The file size is approximately 25 MB.
If you want to play high-definition video, you'll need a 2-GHz processor and 128 MB of video memory.
Since you can connect through USB cable, Bluetooth, or Infrared, it is also important to identify the Supported Bluetooth stacks. These include Microsoft Windows Bluetooth (XP SP2, Vista, and 7), Toshiba, WIDCOMM BTW, or IVT BlueSoleil Bluetooth stack.
Limitations
The feature for backup utilizes a non-documented binary file format, .nbu, which is something that you can only use to restore a phone through a proprietary client. What this means is that the data can be accessed only by restoring a working phone.
Use third party programs, whether they're free or commercial. To read the fine, but the results vary in terms of the information that they're able to retrieve.
With the Nokia PC Suite, you're unable to update or add maps and voices through the Nokia Maps application. In order to do this, you have to use Nokia Map Loader, which requires a device with Microsoft Windows with the .NET.
You can download maps with Nokia Maps, without the need for a Map Loader or Nokia Suite if you point a web browser to the files on the Nokia Maps Server.
Comprehensive mobile management
PC Suite is a comprehensive software package that'll help you manage all that you need to on your phone. Almost all Nokia phones are compatible, and it's fairly straightforward to use.
The additional features are what separate this software from others. Everything can easily be done through Bluetooth, Infrared, or USB cable. Assuming that your device is compatible, this is an essential tool to have on your PC.
If you need an accompanying program, you should consider Nokia PC Suite Cleaner, Nokia Care Suite, or Nokia Suite. For alternatives, you should consider ASTRO File Manager, Bitpim, Funambol, PhoneCopy, or Wammu.