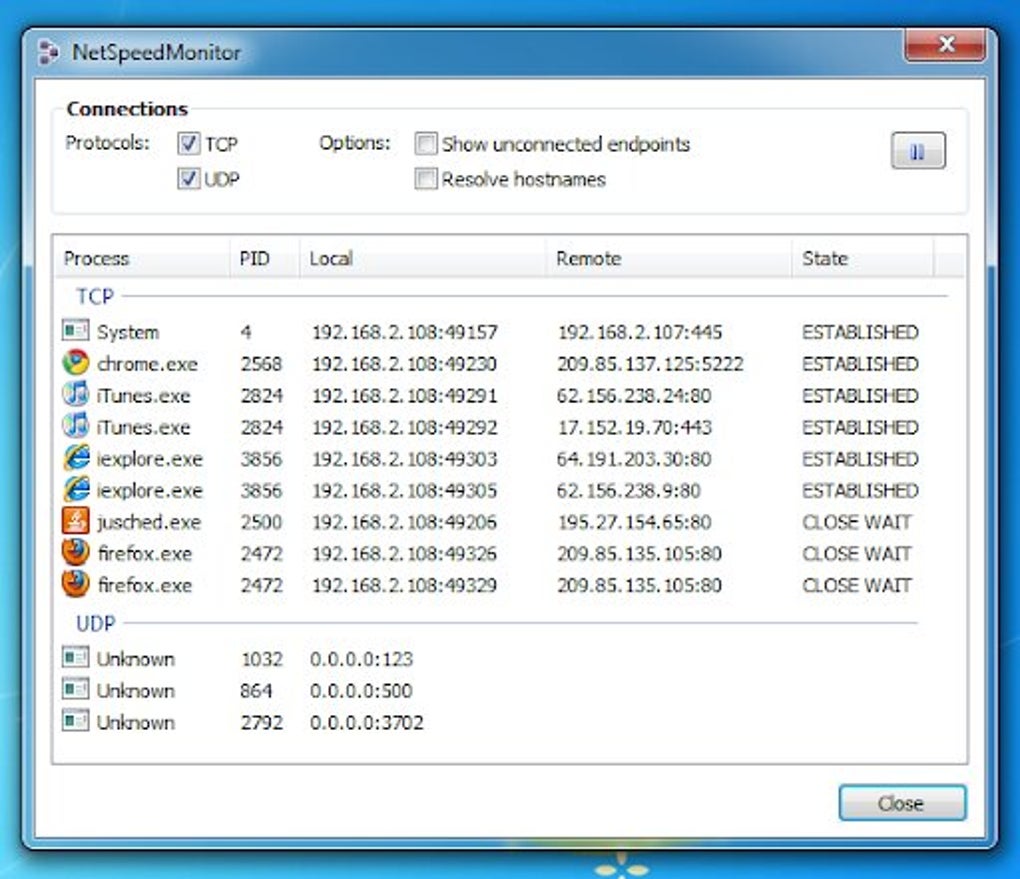 1/2
Internet speed monitor
NetSpeedMonitor watches the speed of your internet. It monitors the speed of what is uploading and downloading to and from your computer. The software keeps the data over time to present you with an accurate description of the way your PC interacts with the servers allowing you to see any problems that have manifested in your connection.
| | |
| --- | --- |
| Version | 2.5.4 |
| Operating System Support | Windows 8, Windows 2003, Windows 7, Windows Vista, Windows XP |
| Current Language | English |
| Available Languages | English, Italian, German, Spanish, Russian |
| License | Free |
| Date | Friday, May 29th 2020 |
| Developer | Floriangilles |
| Developer URL | http://www.floriangilles.de |
User Interface
NetSpeedMonitor is a basic program that involves a normal installation sequence. The design is not attractive, but that isn't a problem as it is quite easy to use. The information is displayed in a non-technical way for those who don't have tech experience.
The main tab is quite unnecessary most of the time so you can minimize it into the taskbar. This ability makes it stand out against competitors like Du Meter. All you need to do to see how the internet speed is working is to hover over the software minimized in the taskbar.
Features
The program only gives you access to how your computer's connection speed is doing. Also, NSM shows what specific software in the PC is doing what with the bandwidth allocated to your computer.
Compatibility and limitations
One of the main problems with this software is that it is no longer being updated. As a consequence, Windows 8 is the last OS that it can work on without having to use special compatibility settings.
It also has limitations on working on Windows 7 and onwards. It is prone to crashing and displaying bad information.
Alternatives
DU Meter is a popular option for network monitors. Although it requires payment, DU can oversee all types of internet connections that your computer has access to. Regularly update, there are no issues with using it on Windows 10.
NetWorx provides a lot of features even though it is free. It can send you notifications based on preset parameters or store your data for you in different forms.
Behind the times
NetSpeedMonitor used to be a great software with its decent UI. However, it lacks a variety of options when compared to its competitors. The poor compatibility with newer operating systems places a severe challenge to its use. It would be best if you skipped on downloading this application.