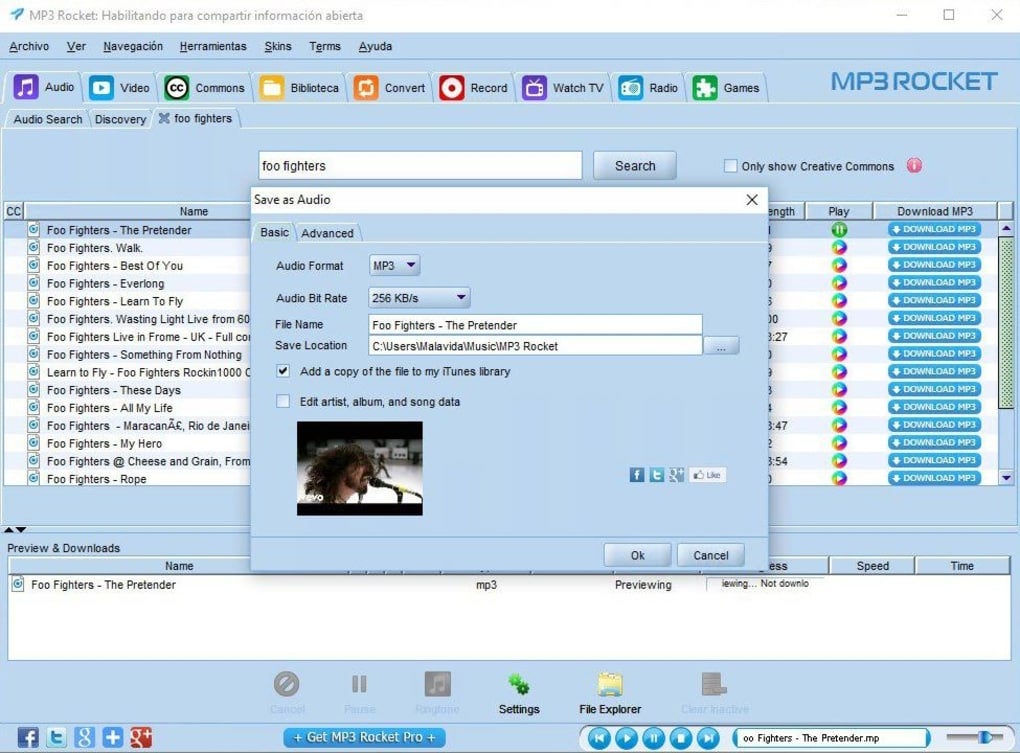 1/2
MP3 downloader app
MP3 Rocket is an audio and video download service that allows you to find videos and download them quickly. You can also convert files into suitable formats for use on other devices.
| | |
| --- | --- |
| Version | 7.4.1 |
| Operating System Support | Windows 2003, Windows XP, Windows ME, Windows 2000, Windows 10, Windows 8.1, Windows NT, Windows 8, Windows 98, Windows 95, Windows 98 SE, Windows 7, Windows Vista |
| Current Language | English |
| Available Languages | English, Polish, German, Turkish, Galician, Portuguese, Finnish, French, Czech, Spanish, Chinese, Catalan, Basque, Swedish, Dutch, Danish, Spanish, Portuguese, Chinese, Russian, Korean, Japanese, Arabic, Greek, Norwegian, Hindi, Italian |
| License | Free (GPL) |
| Date | Friday, May 29th 2020 |
| Developer | MP3 Rocket Inc |
| Developer URL | https://mp3rocket.descargar.es/en/ |
Dated user interface
The design of the interface is quite dated as if it were in the early 2000s. There are two primary tabs for navigation. In one of them, you can choose what you want to do, like look for movies. The lower tab has the various websites you are looking at.
Features available
Beyond downloading and converting audio files, Rocket supports watching TV and movies. Also, gaming is possible through the app. It allows you to download directly from YouTube and other popular channels. There is an explore section where you can find new music to listen to.
Formerly, there was a pro version that would provide HD videos. Now, MP3 Rockets Inc discontinued support for the application, making it impossible to get anymore. It also lacks an extension for browsers.
Quality
Unfortunately, the quality of the audio and videos converted are lacking. At times they may be so bad that they cannot even be listened to properly. The live streaming services and in-application movie and music options of MP3 Rocket are also quite poor.
Security issues and bugs
One of the main problems with downloading videos off the internet is the danger of viruses. Unfortunately, MP3R does not provide any protection against dangerous files that might be tagged onto the download.
The application is known to be unstable. Sometimes, it will stop working and will need to be deleted. It can then be reinstalled, but it may not work anymore.
An aged software
Rocket has very little to offer the modern user when compared to newer programs like Video Downloader. It does not have plug-ins for web browsers. Not to mention, the quality of the files downloaded or converted are suspect.
The instability of the application and the lack of security place direct risk for your computer as well. Therefore, Rocket is not an application you will want to download.