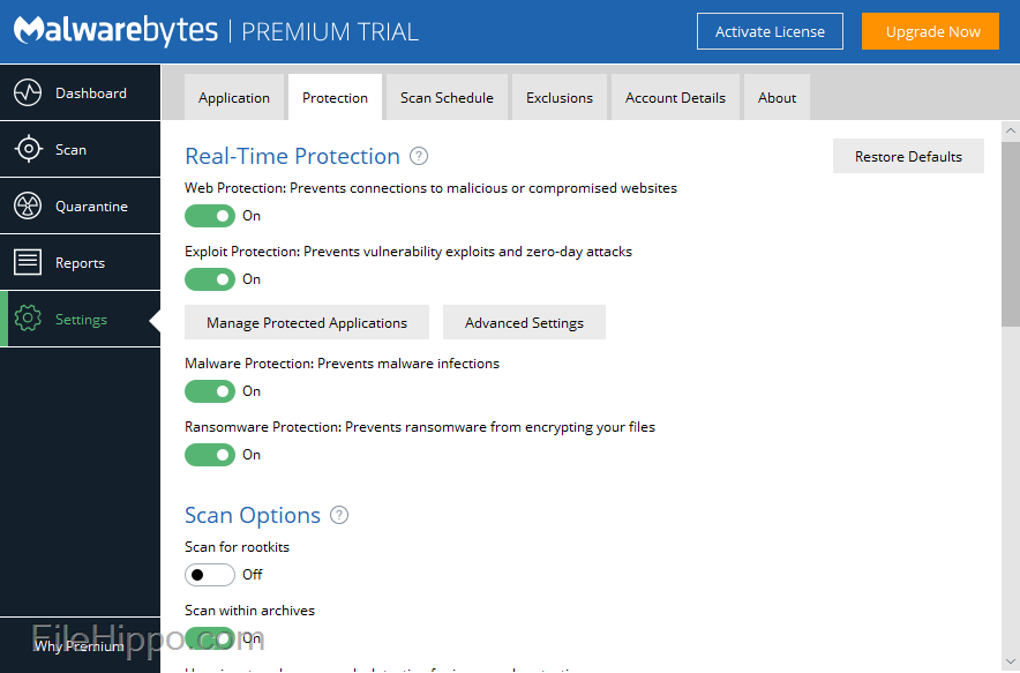 1/2
Malwarebytes Premium offers outstanding protection for your PC, using powerful tools and making antivirus obsolete. It delivers the most powerful security possible and protects you from the most advanced threats.
| | |
| --- | --- |
| Version | 3.6.1.2711 |
| Operating System Support | Windows 8, Windows 2012, Windows 2008, Windows Vista, Windows 7, Windows 2003, Windows XP, Windows 2000, Windows 10, Windows 98 |
| Current Language | English |
| Available Languages | English, French, Polish, Chinese, Italian, German, Japanese, Spanish |
| License | Trial version |
| Date | Tuesday, December 11th 2018 |
| Developer | Malwarebytes |
| Developer URL | https://www.malwarebytes.com/ |
Malwarebytes Premium offers the most powerful protection ever, fighting threats that are too advanced for standard antivirus products. It cleans infections, prevents future infections, blocks malicious websites, and hides from malware.
Key features include:
Outstanding four-layer protection.
Removes malware and spyware.
Automatically finds malware.
Stops exploit attacks.
Blocks ransomware attacks.
Shields against malicious websites.
Fast scan feature.
14-day Windows money back guarantee.
With Malwarebytes Premium, you also gain access to a fast, smart scanning feature. The lightening-fast hyper scan mode only targets current threats, so you can still get powerful results in a fraction of the time and get back to what matters most, using your PC without interruption.
Malwarebytes Premium removes all threats that antivirus cannot reach, including worms, rogues, dialers, trojans, rootkits, spyware, exploits, bots and other malware. With its powerful four-layer protection, Malwarebytes Premium has got you covered so you won't need to worry about cyberthreats again.
Overall, Malwarebytes Premium is a powerful alternative to antivirus software. It's unique and powerful four-layer protection fights advanced cyber threats to keep your PC secure and clean from infections. For extra security, it is possible to use an antivirus alongside Malwarebytes Premium, but arguably you won't need to. Try it for yourself today with a full 14-day free trial for Windows or buy now for access to outstanding protection at a great price.
New to cybersecurity? Check out the beginner's guide to malware, viruses and spyware online.
Find the Mac version of Malwarebytes Premium here.