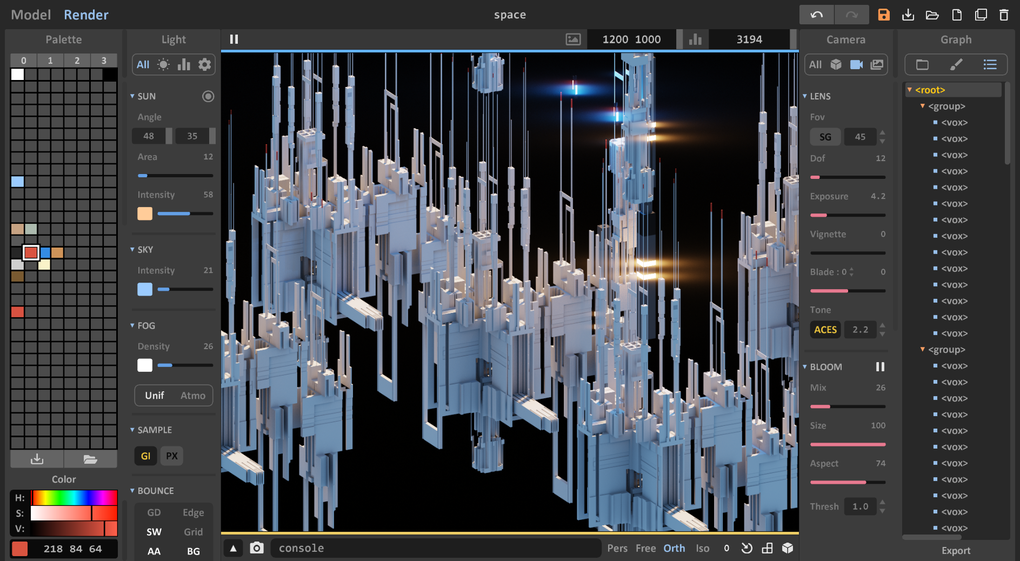 1/3
MagicaVoxel is a free 8-bit voxel art editor and interactive path tracing renderer for Windows PC. It includes a rendering engine and a great set of tools to create and edit various 3D, 8-bit models.
| | |
| --- | --- |
| Version | 0.99.5.0.1 |
| Operating System Support | Windows 98, Windows 8, Windows 2012, Windows 2000, Windows 2008, Windows 7, Windows XP, Windows 2003, Windows 10, Windows Vista |
| Current Language | English |
| Available Languages | English, French, Polish, Chinese, Italian, Japanese, German, Spanish |
| License | Free |
| Date | Tuesday, August 2nd 2016 |
| Developer | ephtracy |
| Developer URL | https://www.twitter.com/ephtracy |
It is incredibly easy to use MagicaVoxel. Simply choose whether to add, remove or paint voxels, and draw straight on to the model to shape and colour it however you like. You can then jump into render mode and bring your model to life.
Key features include:
Create and edit 3D, 8-bit models.
Intuitive interface.
Built-in path tracing renderer.
Extensive export capabilities.
Fully customisable interface.
Multiple brush types.
Insert pre-made shapes and patterns.
Set custom keyboard shortcuts.
Extensive export capabilities.
100% free to use.
MagicaVoxel includes a comprehensive set of tools to help you easily create impressive designs. It includes a great set of brushes of various shapes, and you can easily adjust specific sections of your model using the right tools. You can even save time with the ability to mirror your design on whichever side you choose.
The built-in renderer includes a great selection of textures and options to customise your 3D model. Edit shadows, textures, colours, and more using the sliders provided. It also includes camera adjustments for depth of field, exposure, and vignette.
Overall, MagixaVoxel is a lightweight 8-bit voxel art editor and interactive path tracing renderer for your Windows PC. The intuitive interface makes it great for creating unique 3D models with ease. It is 100% free to use for any project, and does not require a commercial license.
Find MagicaVoxel for Mac here.