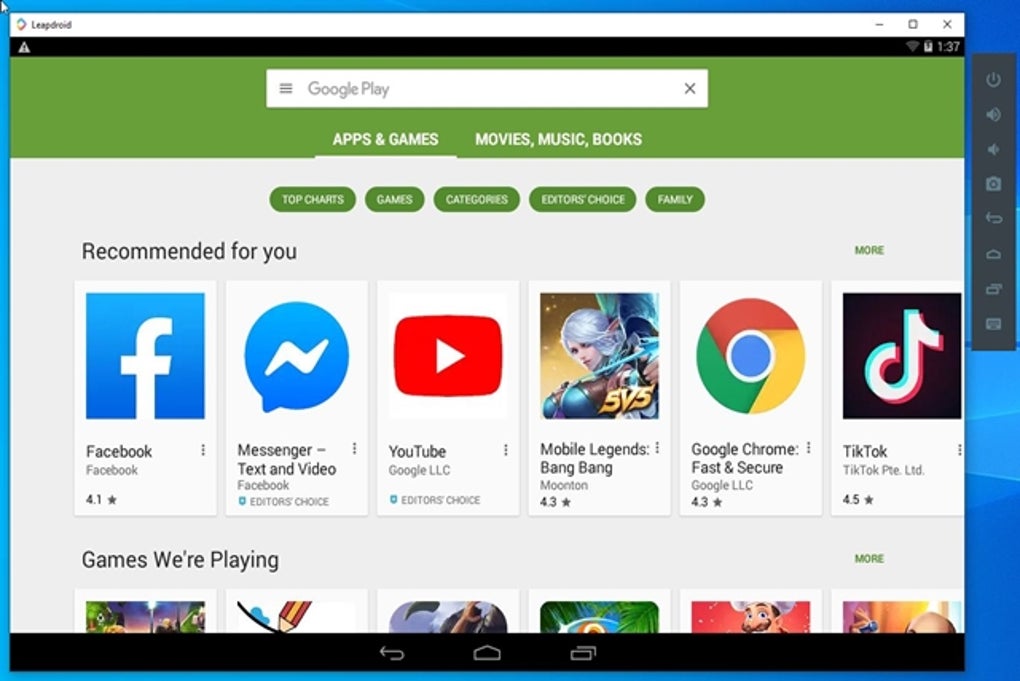 1/2
Enjoy Android on your PC
LeapDroid is an Android emulator for Windows computers. The software allows users to run an entire Android operating system on their Windows PCs.
| | |
| --- | --- |
| Version | 18.0.0 |
| Operating System Support | Windows 8, Windows 10, Windows 8.1, Windows 7 |
| Current Language | English |
| Available Languages | |
| License | Free |
| Date | Thursday, October 10th 2019 |
| Developer | LeapDroid |
| Developer URL | http://www.leapdroid.com |
Built-In Specs
As with any Android device, LeapDroid comes with its built-in specs, emulating the ASUS Nexus 7 as its virtual hardware model. The Android operating system accompanying the emulator is the Android 4.4.4, or more commonly known as Android Kitkat. It is not possible to update LeapDroid any further than Android Kitkat. As such, users are advised to take note of the minimum system requirements of apps to install, as LeapDroid will not be able to run apps requiring later versions of Android.
Speed
Despite LeapDroid's limitations in terms of specs, it does make up for it with speed. LeapDroid can run Android in Windows without any major decrease in performance. The Android interface remains fluid and fast. It works amazingly well in spite of the occasional freezing..
Customization
It is possible to customize the emulator to simulate different gestures that touchscreen devices usually support. LeapDroid even comes with tutorials for customizing the emulator, allowing users to set their preferences more easily.
Low-End, But High-Speed
LeapDroid comes with low-end virtual Android specs, which may not be that useful for people who plan on running recent games and apps on the emulator. Its speed and performance, however, are top-notch. For those who can manage with outdated built-in specs, then LeapDroid is an excellent emulator to get.