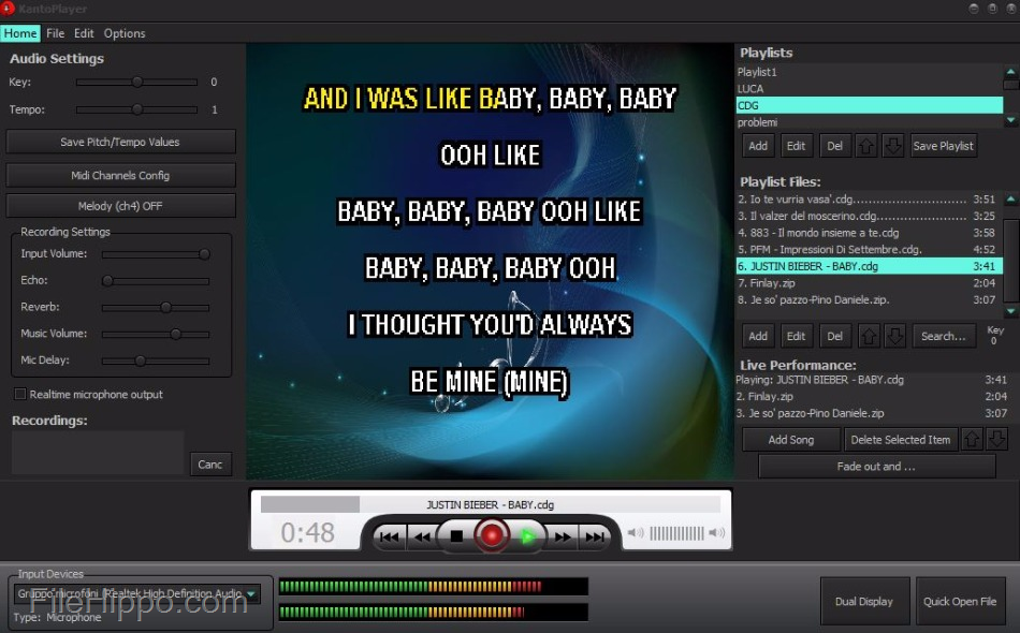 1/2
Kanto Karaoke Player
| | |
| --- | --- |
| Version | 11.9 |
| Operating System Support | Windows 98, Windows 8, Windows 2012, Windows 2000, Windows 2008, Windows 7, Windows XP, Windows 2003, Windows 10, Windows Vista |
| Current Language | English |
| Available Languages | English, French, Polish, Chinese, Italian, Japanese, German, Spanish |
| License | Trial version |
| Date | Tuesday, June 5th 2018 |
| Developer | Globosoft srl |
| Developer URL | https://www.kantokaraoke.com |
Are you a secret crooner? Or do you love to let-rip at the top of your lungs? Well, now you can put that hairbrush down and enjoy the power of song properly, with Kanto Karaoke Player.
Kanto Karaoke describes itself as a professional and innovative Karaoke Player and Recorder, designed for professionals and amateurs alike.
Easy to use, you simply open your karaoke file of choice (.Kar, .Mid, .MP3, .MP3+CDG, or video), select your song and start to sing!
It offers easy management of your playlists and a "Live Performance" module to schedule the songs to play. And thanks to the crossfade effect, you can smoothly switch from one song to the next for that true pro touch.
Key features include:
Supports all multimedia formats: MP3, Mid, Kar, Kfn, MP3 + Cdg, karaoke videos ( . AVI, .WMV, .MP4, etc …)
Sing recording: Record your voice on the music, sing and record your performance! Mic settings available.
Midi to MP3: Direct conversion midi to MP3, with or without melody track. Before conversion you can choose to remove the melody track (vocal track), so that you will have a "clean" backing track!
Kanto Karaoke Player offers a free version, which does not offer all of the features available in full versions. Its setup file is small and its core components can be installed in just a few seconds and as you'd expect, its compatible with all popular Windows versions.
So go on, unleash your inner rock god or diva today!