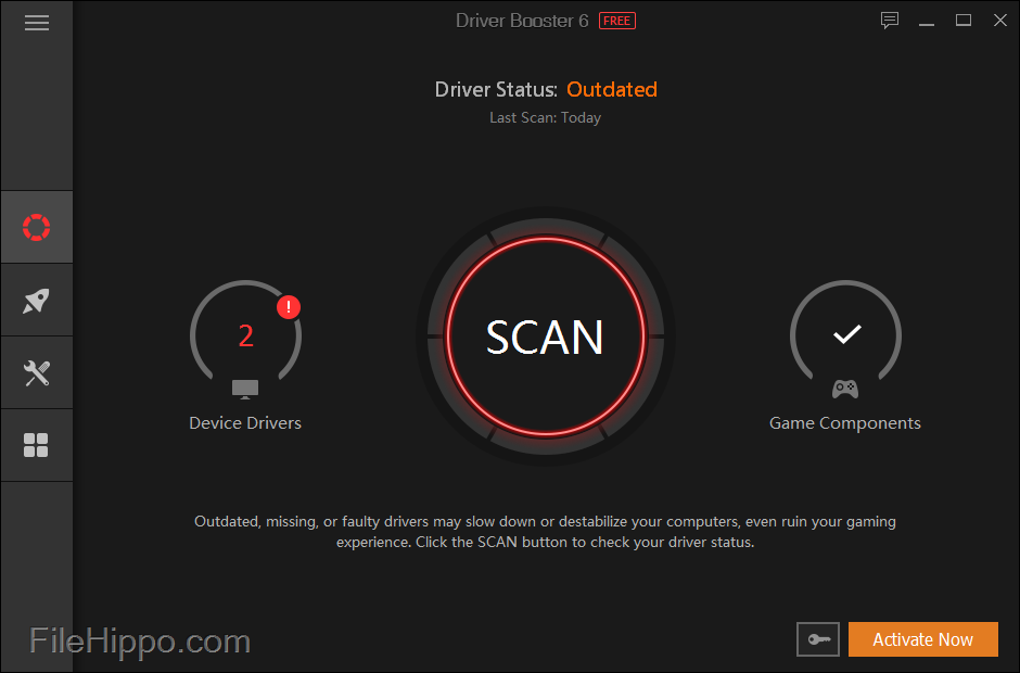 1/2
PC performance enhancement application
IObit Driver Booster does many things for your computer. It cleans and optimizes your PC performance. By doing so, your processor could faster by up to 200% its prior speed. The app can also protect your private data from leaking and monitor your PC condition as it runs in the background. On top of that, IObit fixes major errors in your hardware, including outdated drivers and common bugs.
| | |
| --- | --- |
| Version | 7.3.0.675 |
| Operating System Support | Windows 10, Windows XP, Windows 8.1, Windows 8, Windows 7, Windows Vista |
| Current Language | English |
| Available Languages | English, French, Polish, Chinese, Italian, Japanese, German, Spanish |
| License | Free |
| Date | Tuesday, June 18th 2019 |
| Developer | IObit |
| Developer URL | https://www.iobit.com |
Multipurpose software
Driver Booster is a driver downloader and installation program that you can download and use for free. However, like any other program of its kind, there is a "pro" version. The upgrade contains all of the most useful features. These include automatic driver updates, an expansive database of over 3.5 million drivers, and all of the game ready updates that keep your play time a smooth experience. These premium tools deliver what they promise, but you might feel bummed out if you only plan to use the free version.
Booster comes with an array of functions that make your life easier. Most people don't know where to look when there's something wrong with their PC. This app will identify existing errors that your computer has and fix them. Upon installation, IObit automatically scans and displays any issues that need attention. These problems can include outdated drivers and excess files. This type of tool is fairly common among similar apps in the market. Most optimizing programs like Snappy Driver can also detect and fix hardware issues at launch.
This app can also improve performance of your device. Free up RAM or optimize your computer's speed with just one click. You can also check for updates essential to your hardware, so you don't need to keep scanning your desktop. To install them, however, you'd have to upgrade to the Pro version. Using the free IObit will install the fundamental updates. For the critical data without visiting their websites, the premium will be necessary.
Driver Booster's tools
On the Tools tab, you'd find the main components of the program. These features include audio fixer, resolution adjuster, and system information. The basic tools you can use for free, and they will significantly increase your PC performance.
Driver Booster offers a lot more like the network failure fix. This function is similar to the default network diagnosis on your device. You can normally check for latency issues from the ISP or minor errors in your modem using this method. IObit can detect the same problems and repair them. This option pings the main server, so unless your internet has crashed or you're being blocked, do not run the scan as it may cause unnecessary lag. The fixer doesn't seem to be able to reset your modem remotely as the default diagnosis.
Other useful features include software updater and system updater. IObit can scan all your applications for any necessary updates. You can have it automatically install updates. Only do this if you don't have any software that requires manual installation such as processor or graphics cards.
Performance
Driver Booster takes up a minimal amount of RAM and can run quietly in the background. It monitors your PC condition without eating up any processing power or hogging too much memory. If anything, this app can increase device performance when active. Gamers will appreciate the Game Boost tool, which enhances your experience even when your connection is less than optimal. What it does is hibernate applications that continue to run while you're playing games. That will free up a good amount of RAM so the game will run smoother.
Boosting game performance is one of the unique aspects of Driver Booster. You can also optimize your PC by removing junk files, clearing cache, and detecting spyware. These actions are done by the Advanced SystemCare app that comes with Driver Booster installation for free. It can even boost your internet speed by deleting unused cookies and excess downloaded data.
Advanced SystemCare
This is an add-on software that's optional when you download Driver Booster. It's part of the whole package and it is highly recommended that you install this app also. Advanced SystemCare does so much for your device, on top of the health checks Booster already offers. It comes with a more detailed interface that's slightly harder to navigate. The good news is, every function has a popup that briefly explains what it does, so you won't be flying blind.
This app alone provides as much service as individual software similar to Driver Booster, including Driver Easy and Slim Drivers. You can scan for spyware and remove them completely. Optimization includes a huge range of options that cover every aspect of your device. Internet booster, anti-tracking browser, and process manager, just to name a few. This app also protects you from malware and other threats and doesn't interfere with whatever program you're already using.
Reliable improvements
There are many programs in the market that provide the same service as IObit Driver, but most hide their true quality behind a paywall. With Driver Booster, at least you get a little more than just the basic usage that even your default Windows programs can already do.
The Advanced SystemCare gives you a genuine layer of protection, making your internet experience that much better. Sure, most browsers these days can prevent tracking and data collection. But, who will protect your data from them? IObit and its attendant applications provide users with extra defenses against all sources of collection. Download the software and explore numerous functionalities that you may not know existed. Knowing how they work can improve future experiences with more advanced systems. If you care about your devices, you must give Driver Booster and ASC a try.