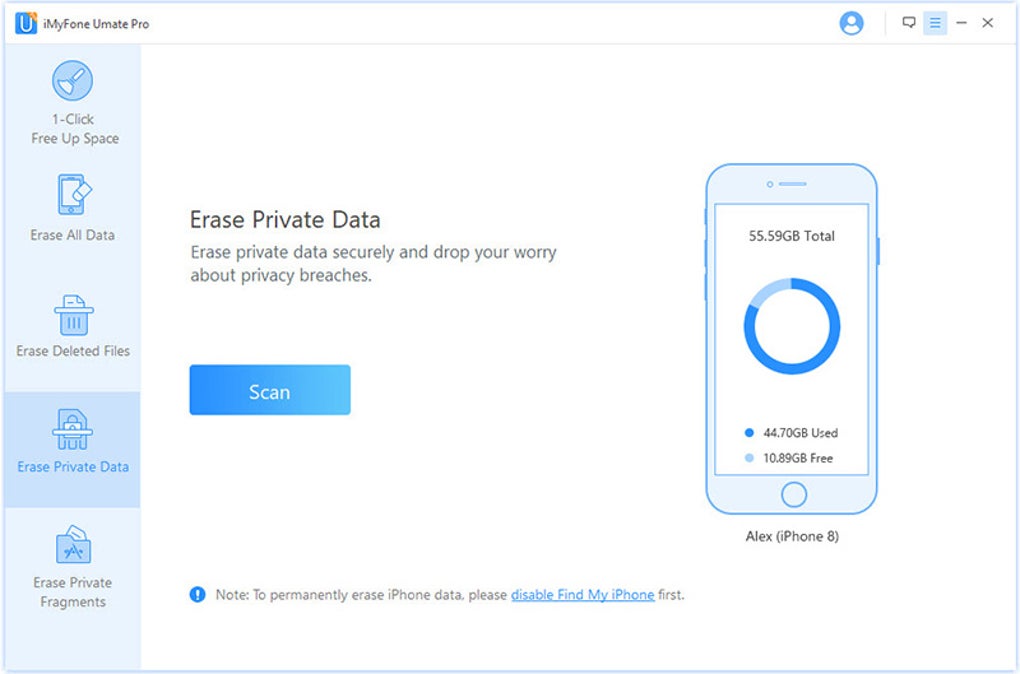 1/2
iMyFone Umate Pro is a complete solution for saving space and protecting your privacy with your iOS device. With iMyFone Umate Pro you can clean all iOS files, including photos, videos, private data, iMessages, and more! You can even erase any sort of data; even previously deleted information, thereby making it unrecoverable.
| | |
| --- | --- |
| Version | 6.0.0 |
| Operating System Support | Windows 98, Windows 8, Windows 2012, Windows 2000, Windows 2008, Windows 7, Windows XP, Windows 2003, Windows 10, Windows Vista |
| Current Language | English |
| Available Languages | English, French, Polish, Chinese, Italian, Japanese, German, Spanish |
| License | Trial version |
| Date | Monday, January 15th 2018 |
| Developer | iMyFone Technology Co Ltd |
| Developer URL | https://www.imyfone.com |
Erasing your data on an iOS device is imperative if you are to sell on your old handset on an auction site or online marketplace. Have you ever sold an old iPhone on eBay? Your apps, photos and even Google searches on your phone can still be recovered – even if you performed a factory reset! Factory resets are simply not enough to remove your data but using a professional data destroyer ensures that your information is safe, regardless of whose hands it falls into. Many people are not aware of the organized crime elements who target used electronics for personal information.
With iMyFone Umate Pro you can permanently erase previously deleted files. This ensures that the files you have already deleted are gone for good. Permanently. This option allows you to can see what data still remains on the device and be sure that the files you previously deleted are no longer accessible or recoverable even with the latest software.
Erase All Data Permanently, with 0% Recoverability iMyFone Umate Pro helps you erase all your data stored on iPhone, iPod or iPad within several clicks, and makes it unrecoverable by any recovery tool.
Not only can iMyFone Umate Pro ensure your data remains safe, it can also free up iPhone storage as well. The junk file cleaner, lossless photo compression and third party app uninstallation coupled with large file management tools all make sure that your iOS device runs as smooth as the day you bought it.