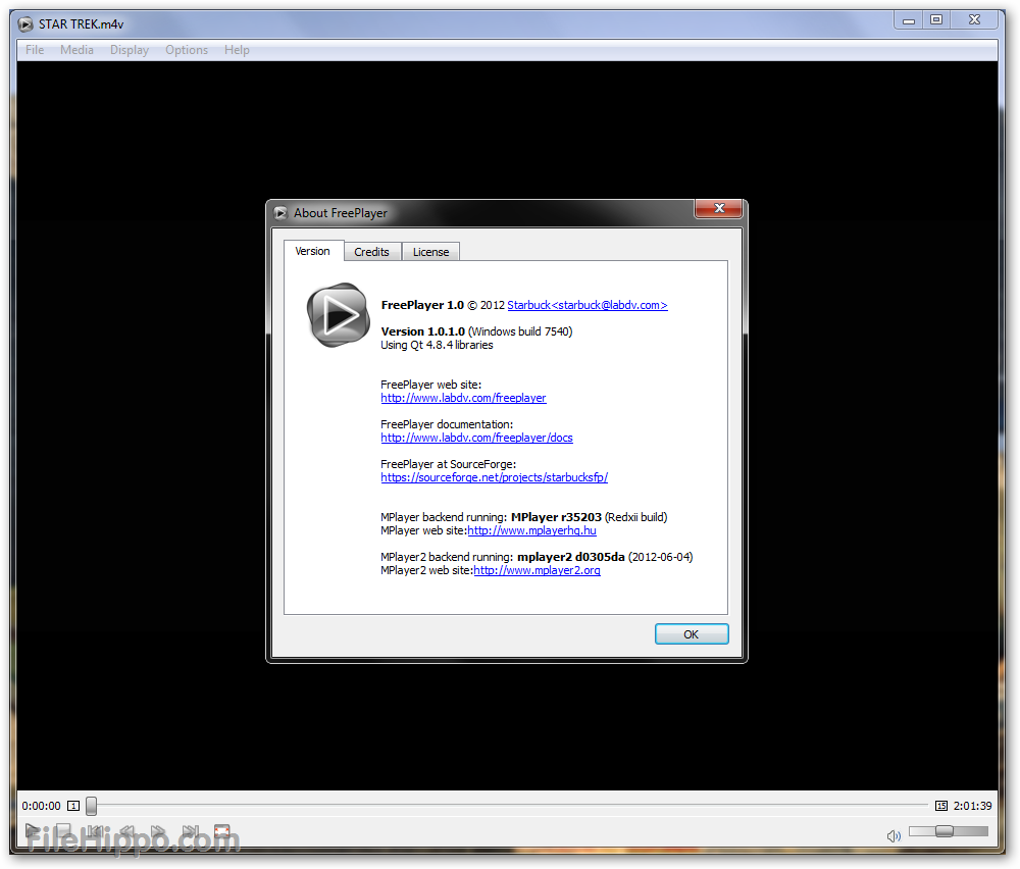 1/2
FreePlayer is a simple and easy to use media player. It is based on the powerful MPlayer project, and is free to use. FreePlayer can be used on Windows and Linux platforms.
| | |
| --- | --- |
| Version | 1.0.1.0 |
| Operating System Support | Windows 2003, Windows XP, Windows 2012, Windows 2000, Windows 2008, Windows 10, Windows 8, Windows 98, Windows 7, Windows Vista |
| Current Language | English |
| Available Languages | English, French, Polish, Chinese, Italian, German, Japanese, Spanish |
| License | Free |
| Date | Friday, June 20th 2014 |
| Developer | labdv |
| Developer URL | https://www.labdv.com |
FreePlayer can play a range of video and audio files on your PC, including Xvid/DivX, H.264, MKV, WebM, MPEG-2, FLV, MP4, WMV, AC-3, AAC, DTS, MP3. it can also play Blu-ray discs, ISOs and folders. It also plays files from the network and standard DVDs.
Key features include:
Free media player.
Clutter-free interface.
Runs on Windows and Linux.
Video and audio media playback.
Navigate DVD menus.
Add subtitle files.
Play Blu-ray discs.
Play files from the network.
While FreePlayer doesn't include a subtitle database, you are able to find and play your own external subtitle files in a variety of languages.
Overall, FreePlayer is a simple and clutter-free media player for Windows and Linux. It is completely free to use and uses open source software (OSS) code. Try it for yourself and download FreePlayer for free.