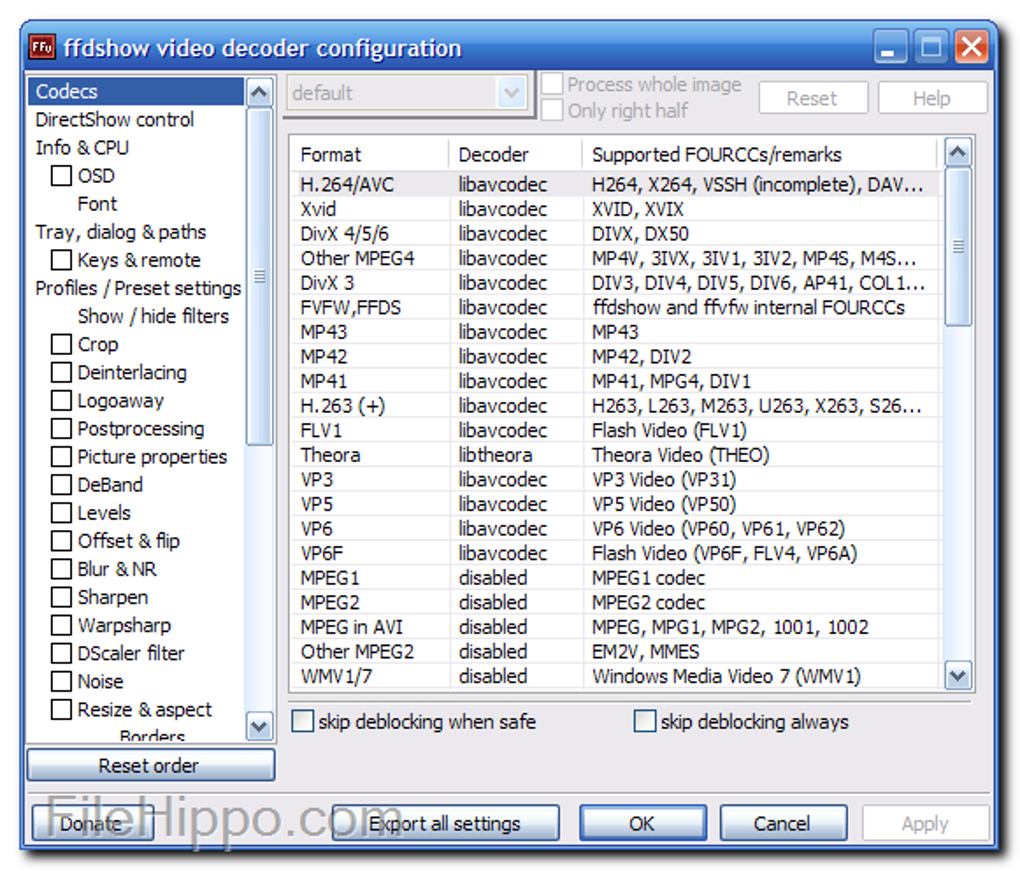 1/2
ffdshow is DirectShow and VFW codec for decoding/encoding many video and audio formats, including DivX and XviD movies using libavcodec, xvid and other open sourced libraries with a rich set of post processing filters.
| | |
| --- | --- |
| Version | 1.3.4534 |
| Operating System Support | Windows 98, Windows 8, Windows 2012, Windows 2000, Windows 2008, Windows 7, Windows XP, Windows 2003, Windows 10, Windows Vista |
| Current Language | English |
| Available Languages | English, French, Polish, Chinese, Italian, Japanese, German, Spanish |
| License | Free |
| Date | Friday, October 28th 2016 |
| Developer | ffdshow Dev Team |
| Developer URL | http://www.free-codecs.com |
ffdshow supports many audio and video formats, including H.264, MPEG-4, MPEG-2, H.263, VP3, VP6, Theora, MJPEG, SVQ3, MP3, AC3, DTS, E-AC3, AAC, and Vorbis.
ffdshow comes with a powerful filter set, which can enhance the video quality; with filters for resizing, deinterlacing, and displaying subtitles, as well as audio quality via normalization, down-/upmixing, and resampling.
ffdshow is a fairly extensive app that gives you access to a wide range of playback settings for your media player. The only downside of ffdshow is that it doesn't provide any help documentation to assist you.
Overall ffdshow provides you with varied array of processing filters, which allow you to have a good play around with your media player. Most media players are now flexible regarding accepting different file types, and codec packs such as this are becoming somewhat obsolete. That being said, if you are a big fan of media players such as Media Player classic, and you are quite confident changing your system's settings, FFDShow maybe something you should check out?