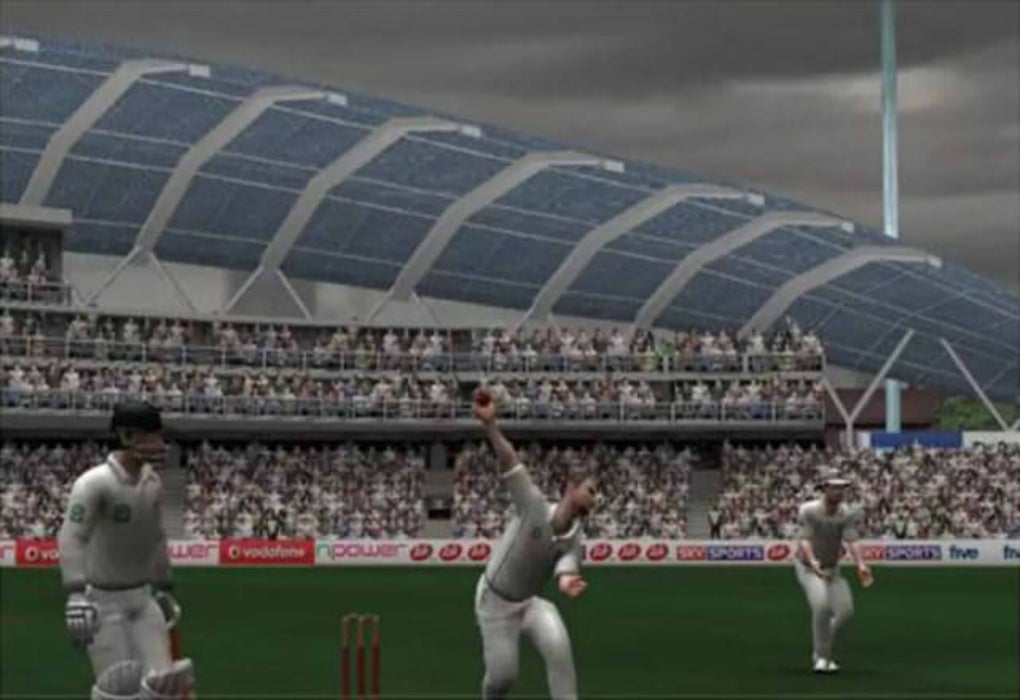 1/2
Play Cricket From Your Computer
Because cricket is not as widespread as other high-profile sports like basketball or tennis, not all fans will be able to play the sport themselves. Fortunately, they can try playing it digitally in EA Sports Cricket. Developed by HB Studios and published under Electronic Arts' EA Sports label, EA Sports Cricket AKA Cricket 07 is a cricket simulation game featuring high-quality graphics for its time, an immersive gaming experience, and realistic cricket gameplay mechanics.
| | |
| --- | --- |
| Version | 7 |
| Operating System Support | Windows 8, Windows XP, Windows Vista, Windows 7 |
| Current Language | English |
| Available Languages | English, Korean, Danish, Dutch, Swedish, Portuguese, Russian, Cn, Polish, German, Finnish, Norwegian, Italian, French, Spanish, Czech |
| License | Free |
| Date | Thursday, October 10th 2019 |
| Developer | Eagames |
| Developer URL | https://www.ea.com |
Availability
EA Sports Cricket was originally released in November 2006 for Windows and PlayStation 2. The Windows port can be launched in Windows XP or later operating systems. Most modern computers won't have any difficulties running this game as its recommended specs aren't very demanding.
Game Modes and Options
EA Sports Cricket offers a wide range of customization options to personalize their games according to their preferences. For example, users can choose between different venues and edit the weather conditions of their matches. EA Sports Cricket offers a large selection of venues to choose from. Venues have unique conditions and pitch types to make the games varied and exciting.
In addition to venues and weather conditions, users can also modify their gaming settings. They can choose from several game types that offer different rules and conditions. EA Sports Cricket offers limited-overs matches, full-length test matches, and first-class matches.
Presentation and Aesthetics
The game is presented in realistic 3D graphics. Although the graphics are a bit outdated compared to newer sports games, they still look really good. The proportions of the characters are true to life and the designs are very detailed. The animation also simulates real-life really well.
One of the best things about the game is the fact that it feels like you are watching a real-life cricket game as you are playing. It features sports commentators that talk over the game, giving it an authentic feel.
Featured Licenses
The game offers different tournaments, each with different terms and victory conditions. There is the World Championships where you can choose from 16 teams and compete for the World Cup Trophy. Players can also choose to compete in the Knockout Cup, Test Series, World Series, and Tours in different nations.
EA Sports Cricket still features a sizable roster of licensed teams and players, despite losing many licenses since Cricket 05. Australia, New Zealand, South Africa, and America are still licensed by the game, so players can still enjoy playing as those teams in the game.
A Cult Classic
EA Sports Cricket may not have the popularity of other sports video games out there, but there's a reason the game enjoys a cult following. It has great graphics, an amazing presentation, and a good cricket gameplay that makes you really feel like you are playing or watching an actual cricket game. If you're a hardcore fan or just want to know what cricket is all about, EA Sports Cricket has what you're looking for. It's an unconventional sports game that is worth checking out.