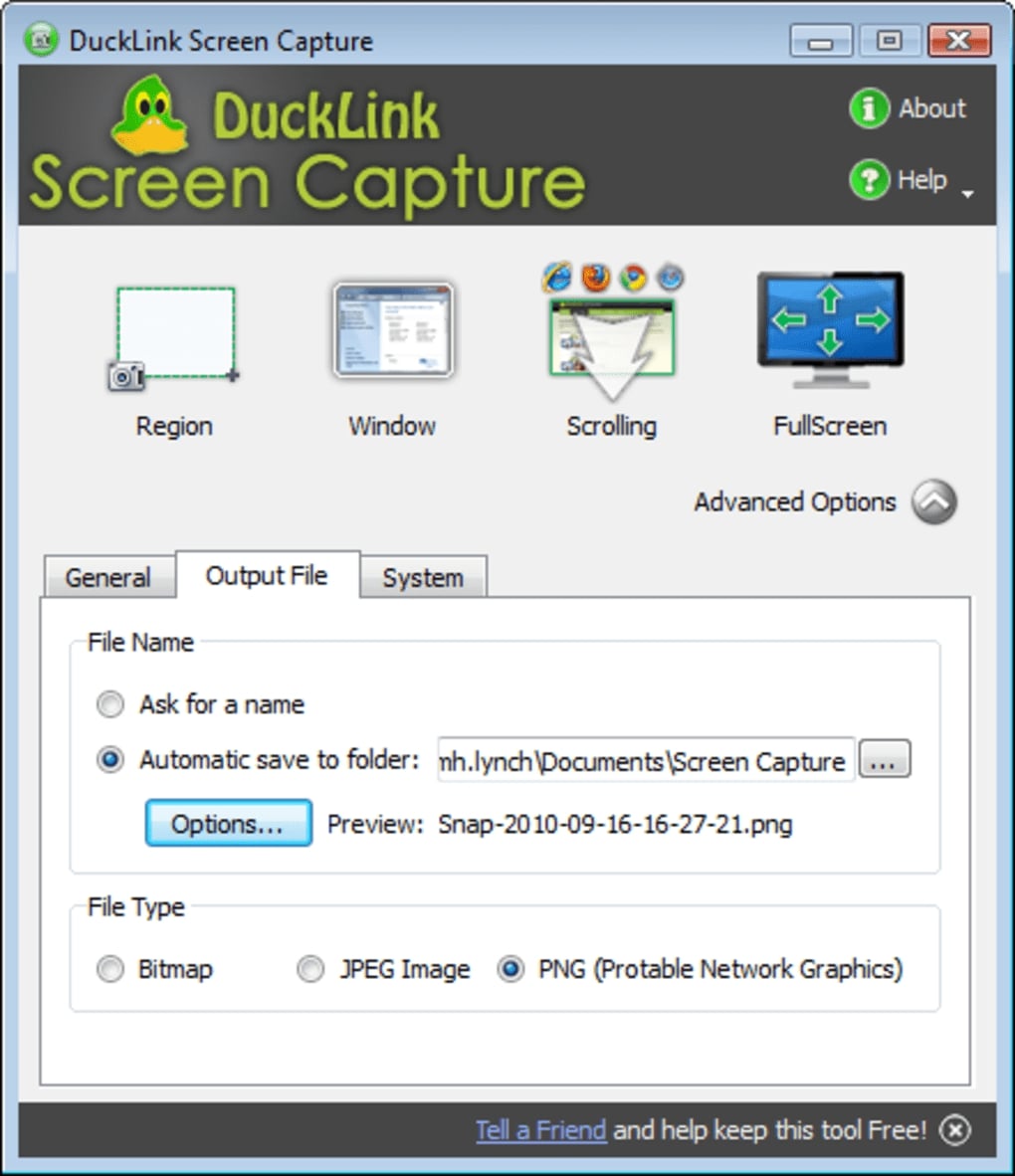 1/2
Free flexible screen capture tool
Snap a screenshot on your PC with four different capture modes. With three different save formats available, you'll find this software programme easy to use.
| | |
| --- | --- |
| Version | 2.6.0 |
| Operating System Support | Windows 8, Windows XP, Windows 7, Windows Vista |
| Current Language | English |
| Available Languages | |
| License | Free |
| Date | Friday, July 3rd 2020 |
| Developer | DuckLink |
| Developer URL | http://www.ducklink.com/ |
Different modes to capture screen
DuckCapture is a screen capture tool designed to make the task easier to perform. It's as simple as selecting the area you want to capture with an image outline. Once completed, you can save it to your clipboard or transfer it to Minus, which is an online site for file sharing. There are three formats for saving, namely JPG, BMP, and PNG.
There are four different capture modes. You can snap a window, region, the whole screen, or a scrolling tall page. Once you select the scroll function, DuckCapture will slowly scroll the page down while capturing it for you. That means that you don't have to do the work.
Informative annotations and shortcuts
One of the benefits of DuckCapture is the ability to add annotations. After you've selected your screen capture area, you can add text with different font sizes and styles. The software saves these annotations on your screenshot so that others can see it.
If you're frustrated at searching for screen capture functions, then assign buttons to various tasks. Once allocated, you can press the correct hotkeys to call up your favourite capture modes.
The downfalls of DuckCapture
There are two minor flaws with the programme. Unlike Snagit and Screenpresso, there is no editing function. Furthermore, you can't delay the capture for timed screenshots. However, you can extend DuckCapture's functionality if you're skilled at writing scripts.
Easy capturing over four modes
DuckCapture provides effortless screen captures depending on your requirements. While you can't edit with the software, you can capture long scrolling pages. Moreover, you can save the images in three different formats to your clipboard or online to share with others.