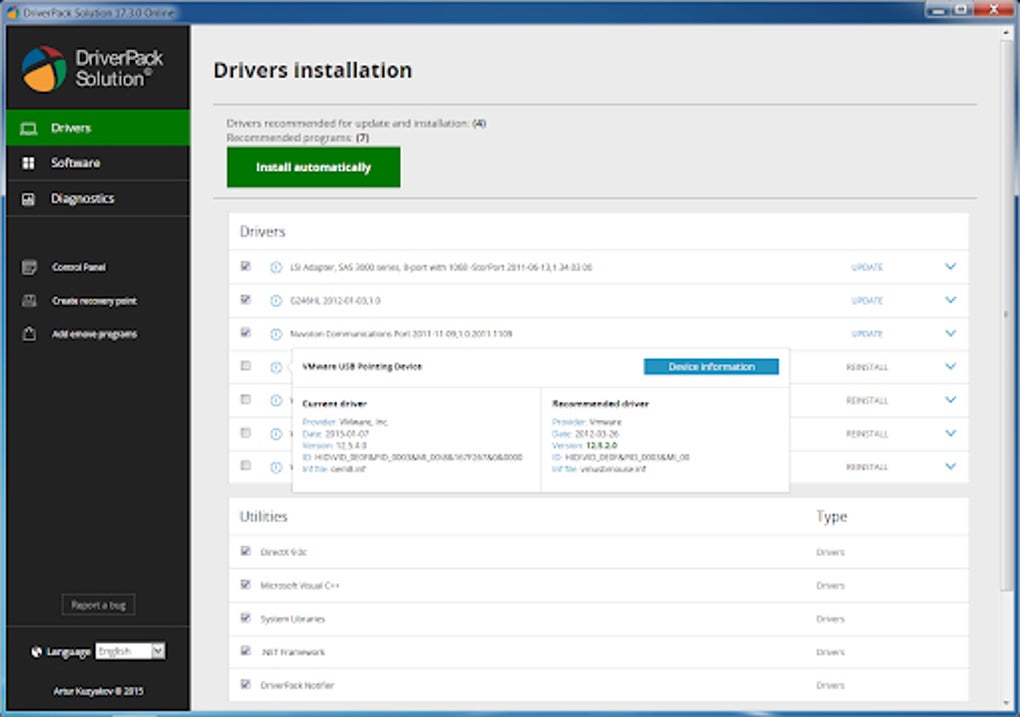 1/2
Update the drives on your computer
DriverPack Solution is free software that lets you keep your drives up to date. Rather than having to check one by one, the programme looks through all of them simultaneously and then allows you to choose which ones you want to install.
| | |
| --- | --- |
| Version | 17.11.28 |
| Operating System Support | Windows 8, Windows 10, Windows 8.1, Windows 7 |
| Current Language | English |
| Available Languages | English, Dutch, Swedish, German, Turkish, Portuguese, Spanish, Czech, Catalan, Danish, Polish, French, Chinese, Portuguese, Russian, Korean, Japanese, Greek, Arabic, Hindi, Norwegian, Italian |
| License | Free |
| Date | Friday, July 3rd 2020 |
| Developer | Artur Kuzyakov |
| Developer URL | http://drp.su |
What is DriverPack Solution Online?
Once you download the programme, it scans your computer. Solution then analyses all of the drivers connected and compares them to the ones it has stored in its servers. Once this process is complete, it will show you what needs to be updated.
You can go through the list and see what you want to install or keep. It also offers defragmentation and system-wide checkups, which are helpful. Lastly, it can check your programmes and see what drives need to be updated or cleaned.
Safety
It's entirely safe to download and use DriverPack Solution Online. That said, it does require turning off your antivirus upon installation to avoid a clash. Regardless, it has been tested vigorously and proven itself to be secure.
Limitations
The downloader is rather sluggish when starting up and scanning the computer. Also, it cannot schedule updates as the alternative Driver Booster can.
Alternatives
Iobit's Driver Booster has several aspects that Solution does not have, such as integration with a wide variety of programmes. Also, the software helps speed up your computer. Snappy is another option. This programme offers a less intuitive user interface, but it does have offline installation. This is not available in the other options.
The solution to slow computers
There are many upsides to using this software. It ensures all your drives are in proper condition while giving you the chance to clean up your OS. It is also secure and there is no risk of corrupt downloads.
Apart from the sluggishness, this programme fares rather wel. When compared to its opponents, DriverPack stands alongside them as an equal. If you are looking for a driver scanner, this software is a great option.