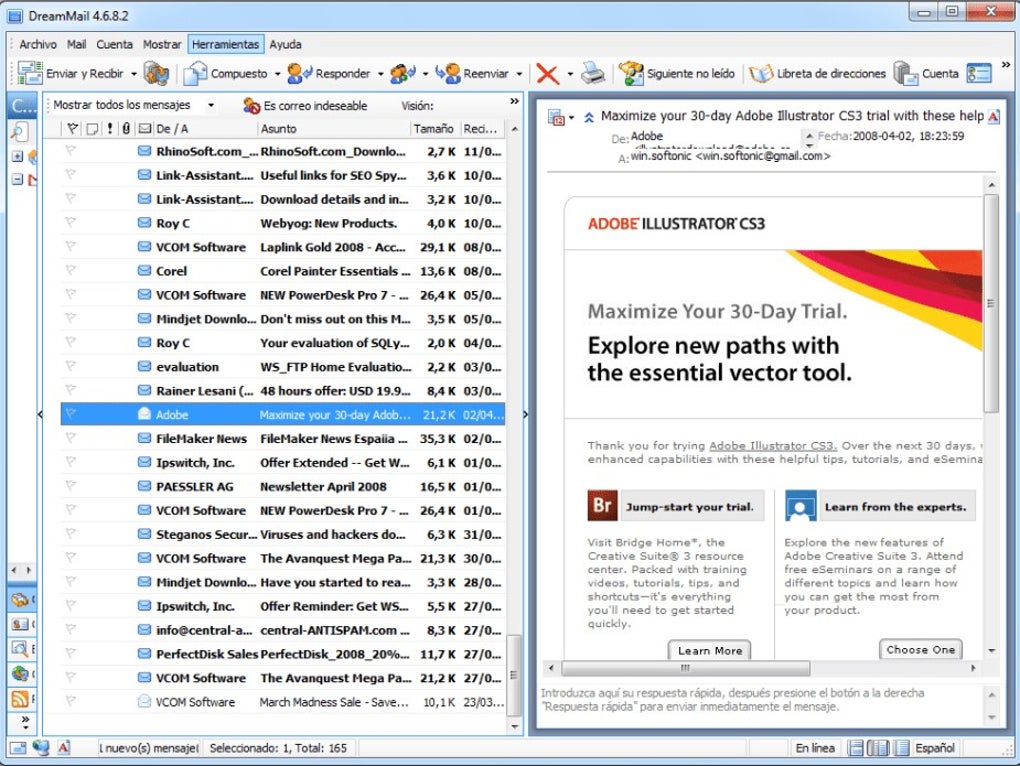 1/2
Email management software
DreamMail is an email service developed by Dream Software Studio. This desktop application is used for managing multiple accounts in one platform. You can also export the contents of your email in EML, HTML, and TXT file formats. It offers support for email protocols such as Post Office Protocol and Simple Mail Transfer Protocol. It is integrated with Gmail, Yahoo Mail, Hotmail, and other email providers. DreamMail is fitted with a straightforward user interface. And a comprehensive list of functions for small businesses and corporations
| | |
| --- | --- |
| Version | 4.6.9.2 |
| Operating System Support | Windows 98 SE, Windows XP, Windows 98, Windows ME, Windows 2000, Windows Vista |
| Current Language | English |
| Available Languages | English, French, Dutch, German |
| License | Free |
| Date | Tuesday, February 25th 2020 |
| Developer | DreamMail |
| Developer URL | https://dreammail.com/ |
Features
At launch, DreamMail immediately displays its setup assistant. You will be presented with a sequence of dialog boxes where you can setup a default account or configure multiple users. By adding more than one user, you must enter the email addresses that support POP3, SMTP, eSMTP protocols. If your online mail service has already received a substantial amount of messages, it will take some time to sync.
DreamMail offers the standard tabs seen in emailing platforms such as inbox, outbox, sent mail, trash, drafts. When necessary, you can access other functions of your email service through the program's integrated web browser. You can also open XML files through the software's Really Simple Syndication Reader or RSS reader as well as HTML-based mail. With several messages being sent to and from your account, DreamMail stores the messages and attachments in its server. The contents of the email will be permanently deleted if the server deems the thread inactive.
Messages can also be organized in password-protected folders. You can adjust the protection level for both your inbox and deleted emails to ensure that no one can access classified information. However, you may not be able to immediately use this application. It is important to note that the DreamMail app has several Chinese UI elements such as its default language and its installer. You can change the language to English and switch other settings from the tabs on the upper left side.
Practical email client
DreamMail can prove useful to users with several email accounts. This allows you to view a single platform rather than switch between windows. It also offers support for other email formats, ensuring that you will be able to see all kinds of emails. Whether you're using this for personal or professional use, you can install DreamMail on Windows XP and higher.