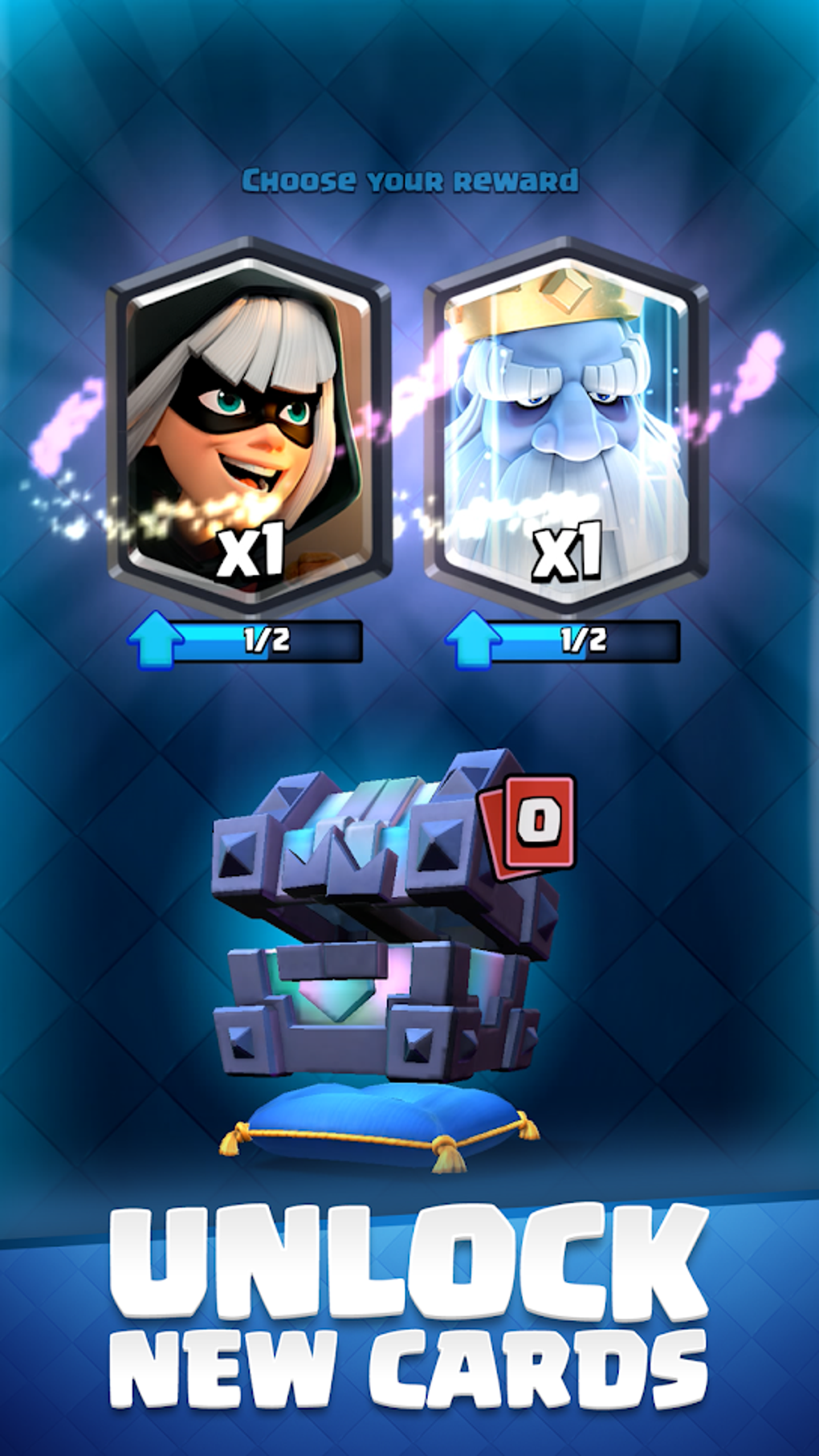 1/2
Real-time strategy card game
Clash Royale is a real-time multiplayer game by Supercell. It combines elements from collectible card games, tower defense, and multiplayer online battle arenas. You must topple your opponent's tower to be declared the victor. The more rounds you win, the more trophies, gold, gems, cards, and crowns you collect. These are essential to strengthen your Battle Deck.
| | |
| --- | --- |
| Version | 3.2.1 |
| Operating System Support | Windows 8, Windows 10, Windows 8.1, Windows 7, Windows XP |
| Current Language | English |
| Available Languages | English, German, Dutch, Chinese, Portuguese, Russian, Polish, Japanese, Portuguese, Italian, French, Spanish |
| License | Free |
| Date | Tuesday, November 19th 2019 |
| Developer | Supercell Oy |
| Developer URL | https://supercell.com/en/ |
Gameplay
The goal of Clash Royale is to knock down the most towers using your cards. Each player must have a deck of eight cards. The deck can be any combination of Common, Rare, Epic and Legendary cards. These cards represent the soldiers you deploy on the battlefield. The fastest and most rewarding way to win is to destroy your opponent's King's tower. You will not win the game, but you will double your energy. Another way to attack your enemy is to take down the smaller towers before breaking down the King's tower. Instead of playing for several hours, you can earn your gems and gold by waiting for the treasure slots to open. It is essential that you stand by these chests as they will help you increase your virtual currencies. You can also bet on the 'matchmaking' feature of the game. Here, clans that pick you can help you collect treasure, earn crowns and unlock other rewards. You can also upgrade your deck by requesting certain cards to your clanmates. Clash Royale is one of the few portrait-orientated games. It features elements for players that are familiar with both card collecting games and multiplayer online battle arenas. It is unique to Clash Royale to allow you only eight cards on their deck. This limitation challenges you to create a more effective strategy. You can also use its pay-to-compete strategy to your advantage. Clash Royale offers lots of opportunities to increase your rank and earn more gems. It will take some time, but it offers key rewards.
Exceptional card collecting game
Clash Royale pushes players to meticulously plan their deck and carefully plan out their next move. With these game mechanics in place, each win feels well-deserved. If you're looking for a game that combines strategy and action, you can play Clash Royale on smartphones running Android 4.1 and above.