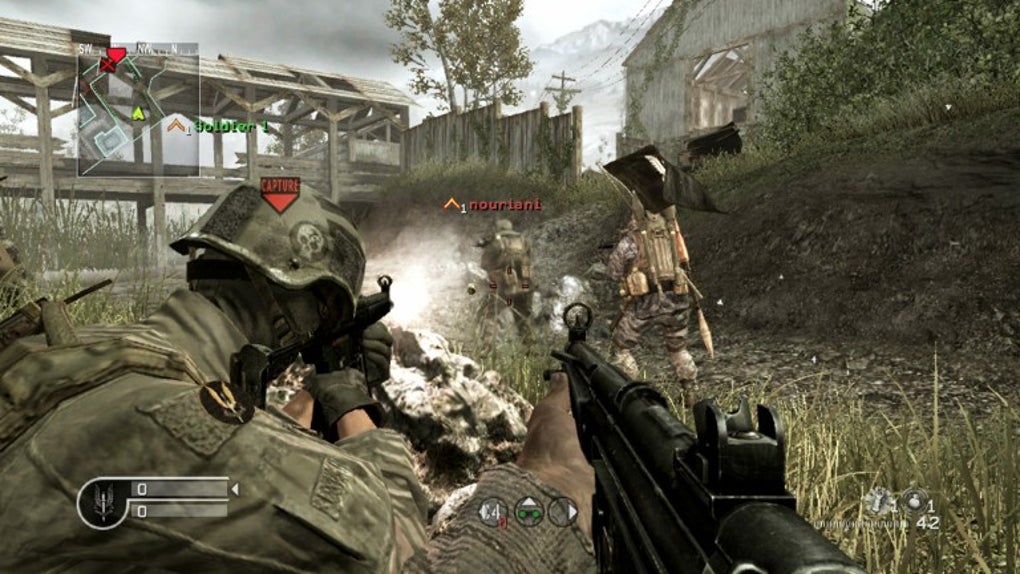 1/2
An FPS Masterpiece
There's no denying that the Call of Duty franchise is ranked amongst the top of first-person shooter games. In this entry to the massively popular series, Call of Duty fans are taken from the grim history of WWII and dropped in the middle of the uneasy political climate of modern times. As a critical and commercial success, Call of Duty 4: Modern Warfare comes with both a rich single-player campaign as well as an amazing multiplayer experience.
| | |
| --- | --- |
| Version | 1.0 |
| Operating System Support | Windows 2003, Windows NT, Windows ME, Windows 98, Windows 2000, Windows 95, Windows Vista, Windows 98 SE, Windows XP |
| Current Language | English |
| Available Languages | |
| License | Free |
| Date | Monday, October 14th 2019 |
| Developer | Activision |
| Developer URL | https://www.activision.com/ |
Gameplay
Fans of the earlier Call of Duty games will have no problems following this game as the mechanics are very similar. Players would have to balance a combination of speed and stealth to get through levels. Using cover and crouching are essential to get through levels unscathed. However, there are also new features that come with Modern Warfare. Obviously, modern weapons and clothing designs go without question. There is also a new multiplayer feature known as Killstreak. Successfully killing consecutive enemies without dying will trigger killstreak perks which can be used to call for aid or issue powerful attacks. That said, as a whole, Call of Duty 4: Modern Warfare features familiar gameplay mechanics, especially for first-person shooter afficianoados.
Single Player Campaign
In Call of Duty 4: Modern Warfare, you follow a non-linear story where you can play as different characters at certain points in the campaign. The story primarily follows new British SAS recruit John "Soap" MacTavish as he gets embroiled in a conflict in the Middle East involving a Russian Civil War. Players get several levels where they get to play in flashbacks as Captain John Price and as USMC 1st Force Recon Sergeant Paul Jackson.
The story itself can be a bit convoluted at times, as you're following complex political machinations through out the narrative. That said, playing though it is uncomplicated since each act is broken down to specific missions and objectives. Once the main campaign has been completed, a bonus epilogue mission can be unlocked.
Multiplayer Gaming
There are different multiplayer modes in Call of Duty: Modern Warfare, each varying victory conditions and objectives. Typically, victory is achieved by being the first to accomplish a certain objective, but it can also be achieved by being the last man standing. Killing enemies in multiplayer mode will earn players experience points to increase their level. Although it has a level 55 cap, Modern Warfare comes with a Prestige mode where players can reset their levels, but gain additional perks and upgrades.
A Videao Game Classic
When it comes to first person shooters, the Call of Duty franchise is the first on any body's mind, and for good reason. Call of Duty 4: Modern Warfare is a solid entry into the franchise, successfully maintaining traditional gameplay while also upgrading and modernizing certain mechanics. The graphics are phenomenal for its time which is par for the course for any Call of Duty game, and the plot is engaging despite being convoluted at times. All in all, Call of Duty 4: Modern Warfare is a modern classic that any FPS fan should definitely pick up.