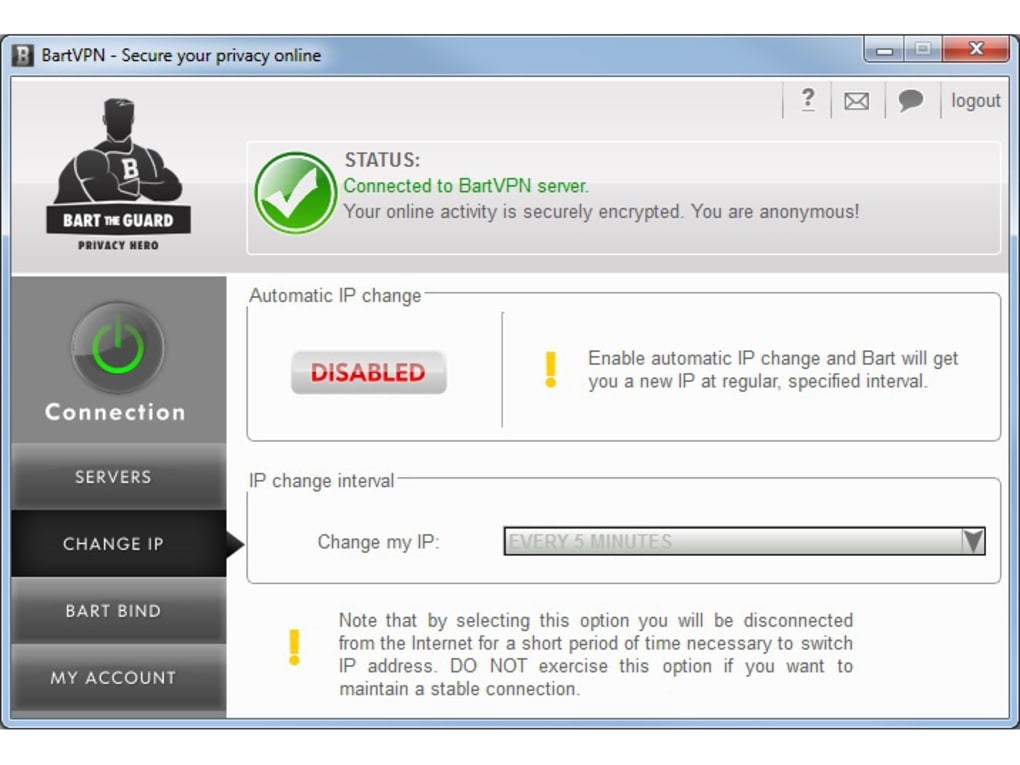 1/2
A Powerful VPN Despite Its Simplicity
Online browsing can still be a massive threat to your security no matter how safe you think you are. For this reason, having a virtual private network or VPN on your system would be a great help to keep you private and secure against malicious threats online. BartVPN is a VPN service offered by Red Sky, and it is a simple and lightweight tool that ensures your privacy without much hassle.
| | |
| --- | --- |
| Version | 0.5.470 |
| Operating System Support | Windows 8, Windows XP, Windows Vista, Windows 7 |
| Current Language | English |
| Available Languages | |
| License | Trial version |
| Date | Wednesday, October 23rd 2019 |
| Developer | Red Sky LLC |
| Developer URL | http://www.red-sky.com/ |
Basic Features
BartVPN has all of the basic features that are expected of any respectable VPN service. It can protect your Internet connection through high-grade encryption methods. With BartVPN, you can browse the Internet anonymously. Not only that, but BartVPN allows users to choose from a number of servers, ensuring that users have a fast connection. The VPN service also lets users access restricted websites, giving them more freedom when browsing the Internet.
Intuitive Interface
One aspect that BartVPN has over other VPN services is its simple interface. Unlike other VPNs that have interfaces cluttered with all sorts of buttons and options, making it very confusing to use. BartVPN has an intuitive interface that's very easy to navigate.=
Simplicity at Its Best and Worst
BartVPN best and worst quality is its simplicity. On the one hand, it is very easy to use because it's so simple and intuitive. On the other hand, one can argue that BartVPN's basic features don't justify its price tag, especially with better VPNs on the market with very little price difference. Fortunately, BartVPN has a free trial so users can try it and decide for themselves.