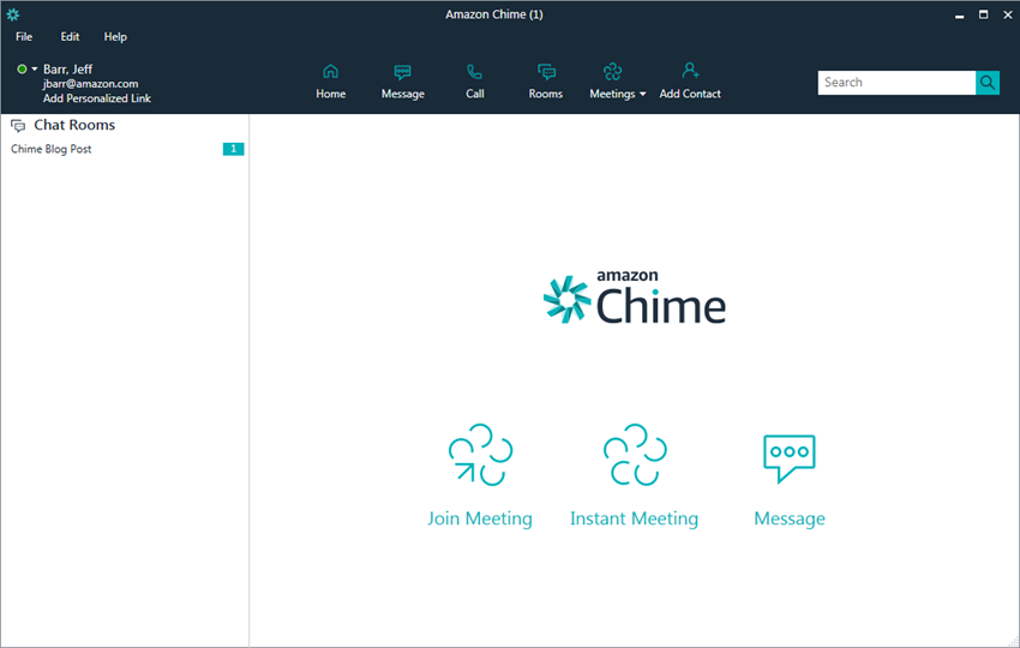 1/3
Communications service for businesses
Tech giant, Amazon, has ventured into communication services with Amazon Chime. It is an audio and video-conferencing application that allows members of small businesses and corporations to communicate with colleagues inside and outside of their organization. It is a multiplatform tool and runs on Windows 10, as well as macOS, iOS and Android devices. All members of your organization can join an Amazon Chime call anywhere, anytime.
| | |
| --- | --- |
| Version | 4.0.7762 |
| Operating System Support | Windows 8, Windows 10, Windows 7, Windows 8.1 |
| Current Language | English |
| Available Languages | |
| License | Free to Try |
| Date | Tuesday, February 25th 2020 |
| Developer | Amazon.com, Inc. |
| Developer URL | http://www.amazon.com/ |
Functions
Amazon Chime offers a comprehensive set of functions that fall under three basic categories: attend meetings, chat, and security and administration. Features dedicated to meetings include automated voice over internet protocol. This allows the Amazon Chime to begin the call without being launched manually. You can invite up to 15 people in a call even while the call is in progress. You can do this manually using the Invite tab or you can use Alexa for Business to do so.
Features for chat allow you to communicate with colleagues and clients one-on-one or as a team. Similar to other telecommunication programs, both person-to-person and group chats allow you to send file attachments, adjust notification controls and post incoming webhooks. Chime offers a notable collaboration feature called Chat Room. While group chats can only have 50 users, Chat Rooms do not have a limit. You can create Chat Rooms to gather teams during escalations or discuss topics with colleagues on an ongoing basis.
With large amounts of classified information and important files being shared, Amazon has fitted Chime with Advanced Encryption Standard with 256-bit keys. Otherwise known as AES-256, it is the industry standard of security that will encrypt all files and texts shared on the platform. You can also monitor your account's activity log using Amazon Web Services CloudTrial.
Complete online meeting program
Amazon Chime offers an extensive list of functions that you can use to connect with your colleagues and clients. It's chat functions and security system ensure that every user's message is delivered successfully. It's audio and video call features give you control of the meeting; the number of callers is limited to 15. This may stall corporations that want to hold alignment meetings, pitches, and other conference calls with large groups of users. Overall, Chime can help keep business operations running from a remote location.